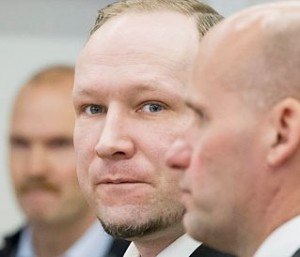 In the wake of a very active first week, The Guardian's Anders Behring Breivik page is relatively moribund today.
Anders Behring Breivik loses front-page power in Norway, published Friday, provides a hint why:
Silje Gloppen, a teacher, said however abhorrent Breivik's views, lessons needed to be learned from him. "Norwegians and, I believe, the rest of the world have to consider the possibility that this man is speaking the truth when he says he believes our 'Norwegian culture and ethnicity' is threatened by multiculturalism," she said.

Breivik's outlook is shared by "too many", she argued, citing the comment fields under articles on Norwegian newspaper websites, and a battle on Wikipedia pages related to the case between moderators and extremist writers trying to take hold of "the truth" on the internet.

"I am afraid the left side in politics have for too long failed to grasp that there are challenges with the new society that need to be discussed," she added.
Paul Brennan (paulrbrennan) has been silent since court adjourned Friday.
Helen Pidd (helenpidd) twits today that she's back in London where she will find it tricky to report further on the trial. She redirects those who are interested to Lars Bevanger (lbevanger) and Trygve Sorvaag (trygvesorvaag). She also cites Chris Elliott's op-ed, Open door: The readers' editor on … the problems of tweeting the Anders Behring Breivik trial, which in turn provides a reporter's rationalizations about why reporting testimony directly from Breivik's trial is bad:
A tweet goes straight from event to air – and stays there. It is a discrete package that may later form a strand of a larger, more complex, story, but which will, nevertheless, exist of itself, shorn of context.

It is an effective form of digital journalism and is increasingly first with the news – whether that comes from a journalist or a well-informed tweeter. However, it is reductive by nature. When the Guardian was planning coverage of the trial of Anders Behring Breivik, the Norwegian extremist who has admitted killing 77 people, the Guardian's editorial team discussed whether tweeting was an appropriate tool.

Helen Pidd, the reporter who is covering the trial, was concerned beforehand that reducing "his justifications to a stream of 140-character soundbites" would be giving Breivik the platform he sought.
Pidd fingers the most important reason: Despite the reduction and distortion, she finds her enemy's position still too potent.
Pidd said: "I would say I have had far more comments from people thanking me for the 'grim but necessary' reports on Twitter than those complaining I was giving Breivik the platform he craved. Two followers tweeted me to say they were 'unfollowing' until I left Oslo because it was 'too much'."

She has gained almost 3,000 followers in four days, a number of whom were angry when she said she wasn't going to tweet everything on day one "because … they accused me of censorship".

She said she wasn't "completely comfortable with tweeting the trial", not least because so much of Breivik's ideology was formed online. But she felt it was important to engage readers, plus it does drive traffic to the website.
Breivik correctly identified the media and it's pundits as enemies. Those pundits are less forthright about it, but reading them closely it's clear they agree. They understand, at some level, that their multicult ideology is unpopular, that the verdict on it is already in. Now that they've gotten enough to reduce Breivik to "the Norwegian extremist who has admitted killing 77 people", that's the only context they want to provide.