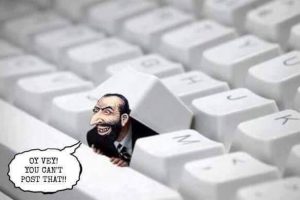 Open Letter to Facebook — Stop Antisemitism (PDF), 7 August 2020:
In accordance with the recommendations outlined in the "The New Antisemites" report, which call on social media platforms to eliminate antisemitic content by adopting the IHRA working definition as the basis for content removal policies, we the undersigned coalition of 128 [as of 11 August, 145 as of 26 August] organizations, urge Facebook to implement a hate speech policy on antisemitism that includes the full IHRA working definition at its core. Nearly 40 countries have already endorsed or adopted the IHRA working definition in some official capacity, either through their membership in the IHRA or independently. In the United States, in addition to the adoption by the State Department, the recent Executive Order on Combatting Anti-Semitism instructs the Department of Education to consider the IHRA definition when evaluating Title VI Civil Rights Act complaints of discrimination.

The overwhelming majority of civil society organizations at the forefront of efforts to combat antisemitism endorse and encourage the use and adoption of the IHRA working definition. Today's antisemitism undoubtedly includes the delegitimization of Israel's right to exist. This bigotry is expressed in various ways, such as the rejection of Jewish self-determination, Holocaust revisionism and denial, and the application of double standards toward the Jewish state and people.

. . .

Jews today, like many other minority communities, are being targeted and attacked in record numbers. They experience physical violence, harassment, and discrimination offline and online. Jews overwhelmingly report that online antisemitism is the most acute form of Jew-hatred they experience.
Facebook's Community Standards Recent Updates (italics denote additions), 11 August 2020:
We define hate speech as a direct attack on people based on what we call protected characteristics — race, ethnicity, national origin, religious affiliation, sexual orientation, caste, sex, gender, gender identity, and serious disease or disability. We protect against attacks on the basis of age when age is paired with another protected characteristic, and also provide certain protections for immigration status. We define attack as violent or dehumanizing speech, harmful stereotypes, statements of inferiority, or calls for exclusion or segregation. We separate attacks into three tiers of severity, as described below.

. . .

Tier 1

Content targeting a person or group of people (including all subsets except those described as having carried out violent crimes or sexual offenses) on the basis of their aforementioned protected characteristic(s) or immigration status with:

. . .

Designated dehumanizing comparisons, generalizations, or behavioral statements (in written or visual form)- that include:

. . .

Jewish people and rats

Jewish people running the world or controlling major institutions such as media networks, the economy or the government
Facebook announces new policy combating anti-Jewish stereotypes – Jewish Telegraphic Agency, 12 August 2020:
Facebook announced that it would ban posts about Jews controlling the world among several other efforts to combat hate speech.

The announcement comes following a monthlong boycott of advertising on Facebook spearheaded by a coalition of civil rights groups led by the Anti-Defamation League. More than 1,000 companies participated in the boycott, which was meant to protest Facebook's lack of action against hate speech.

In an announcement Tuesday issued by Guy Rosen, the social media platform's vice president of integrity, Facebook said it would ban posts about Jews controlling the world, as well as those containing blackface. Rosen also wrote that Facebook has removed 23 "banned organizations" from the platform since October, half of which were white supremacist.

. . .

Responding to the announcement, an ADL spokesperson called the changes "welcome yet overdue."

"It's distressing that it took this long for the platform to crack down on these particular forms of hate, when it's quite obvious they should not have been allowed to proliferate in the first place," the ADL statement said. "It's equally as disturbing that Facebook still doesn't view Holocaust denial as violative of their terms of service."
Facebook banned stereotypes of Jewish global domination – The Forward, 13 August 2020:
In May, Peter Stern, Facebook's director of Content Policy Stakeholder Engagement, said in a conversation with a representative of the AJC they have "mapped" some elements of the International Holocaust Remembrance Alliance's definition of anti-Semitism onto their own policies, but not the parts that relate to Israel, since the site does not want to penalize people for criticizing Israel.

. . .

Greenblatt, of the ADL, criticized Facebook for not taking a stronger stand on Holocaust denial, and called it "disturbing" that the company classifies such posts as "misinformation," and not a form of hate speech against a protected group.

. . .

Facebook still permits inaccurate and false statements about the Holocaust, but takes down posts that in any way celebrate or defend the Holocaust, or mock the Holocaust or survivors, Cutler said. When asked if there is content on Facebook that denies the Holocaust but is not otherwise anti-Semitic, Cutler said the site moderates such pieces of content on a case by case basis.
Here we see jews, obsessively organized and acting collectively as jews, setting themselves apart from and above non-jews, shamelessly proclaiming themselves the arbiters of what non-jews can say, instructing the world's most powerful corporations how to better serve their tribe, bragging that governments of 40-odd countries have already codified special privileges for jews, as spelled out by jews.
Note how they screech as if anyone else's bigotry or "application of double standards" could ever be more obnoxious than their own, and how they respond to any concession with more demands. Note too how their usual identity fraud, their outrageous "fellow white" shtick, is conspicuously absent here. Instead they present themselves like "other minority communities", as a "protected group" per civil rights law, as non-White.
Indeed, with jews so openly dictating who can speak and what they can say, and doing so under color of a jew-defined and jew-driven moral imperative to combat "White supremacism", jews could hardly make it more obvious that they see themselves as the utter opposite of Whites – morally, politically, socially, legally.