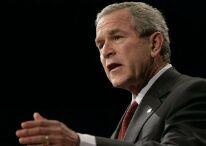 President Discusses War on Terror at National Endowment for Democracy
Ronald Reagan Building and International Trade Center
Washington, D.C.
October 6, 2005
Some call this evil Islamic radicalism; others, militant Jihadism; still others, Islamo-fascism. Whatever it's called, this ideology is very different from the religion of Islam. This form of radicalism exploits Islam to serve a violent, political vision: the establishment, by terrorism and subversion and insurgency, of a totalitarian empire that denies all political and religious freedom. These extremists distort the idea of jihad into a call for terrorist murder against Christians and Jews and Hindus — and also against Muslims from other traditions, who they regard as heretics.
Congratulations! We've finally officially identified the enemy. Now maybe we can work on understanding what really motivates them. For instance, the Jihadis are not the ones distorting the idea of Jihad. That would be the work of the apologists for Islam and the willfully ignorant multiculturalists who pretend Jihad is nothing more than soul searching or defensive war.