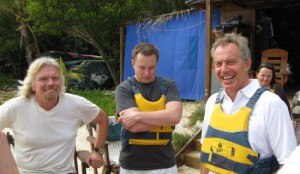 I'm on a brief fact-finding visit to Appalachia. It feels good to be amongst my people – even those who are down and out, and whose English I can't always understand. Maybe I'll write more about it when I get back.
In these tumultuous times, "Big Wall Street investment companies are taking advantage of the Federal Reserve's unprecedented offer" to avail themselves to unprecedented amounts of taxpayer money. We can only hope some heads will roll. We can be certain none of any consequence will.
Meanwhile the freshest progressivist-globalist bigbrains are hard at work on the next boondoggle, green energy:
NECKER ISLAND,British Virgin Islands: Richard Branson was lounging under the starry midnight sky on this palm-dappled speck of an island recently when he popped a sobering question.

"So, do we really think the world is on fire?" Branson, the British magnate and adventurer, asked several guests, as a manservant scurried off to fetch him another glass of pinot grigio.

What he wanted to know was whether his high-powered visitors, among them Larry Page of Google, Jimmy Wales of Wikipedia and Tony Blair, the former British prime minister, thought global warming threatened the planet.

Branson does – and so did most of his guests. So on this recent weekend on his private hideaway in the crystalline waters between the islands of Tortola and Anegada, they tried to figure out what to do about it and perhaps get richer in the process.
Something tells me that these hard-charging save-the-planet types never considered the simplest solution: stop the progressivist-globalist pyramid scheme. In other words, stop fueling turd world overpopulation with food and technology, and stop allowing overpopulating turd worlders to immigrate and overwhelm those of us, specifically the White folk, whose population has already stablized or is declining.
Hands up, how many think "global warming threatened the planet" is more important than how to "get richer in the process"? Branson didn't need to pop that question.
"In James Bond movies, evil-doers meet in exotic settings to plot the destruction of the planet," [chief executive of Ecology Coatings Richard] Stromback said, puffing on a cigar before dinner one night. But the people here, he said, were plotting to save the planet.

So far, however, the hopes and dreams of alternative energy have far outstripped reality. But for Stromback and many of the other participants, a confluence of two powerful forces – soaring oil prices and growing concern over global warming – means the era of economically viable green power is finally at hand.

Many executives and financiers, including some in attendance at the retreat, have a lot of money riding on global warming. Branson, for example, has invested in a host of alternative energy enterprises, including existing businesses within his sprawling Virgin Group.

Khosla, the founding chief executive of Sun Microsystems and one of the most successful venture capitalists in Silicon Valley, has at least 33 investments in "clean tech," including new fermentation technology to make fuel-grade ethanol.
The world-managers already have alot of money riding on green energy. Uh-oh. Hold on to your wallet.
But the big question that hung over the meeting was whether the nations or the world could ever work together to tackle climate change and emissions of greenhouse gases like carbon dioxide.

"We have an agreement that there should be an agreement," said [former British prime minister and senior adviser to Bear Stearns-gobbling JPMorgan Chase Tony] Blair, who was dressed in a white polo shirt, blue cargo shorts and sneakers. "But there's no agreement on what that agreement should be."
Plutocrat tools can be so droll when performing for their next paycheck.
Everyone, it seemed, had some project in the works. Elon Musk, the co-founder of PayPal, talked about his latest project, Tesla Motors, a Silicon Valley company that makes sexy electric sports cars retailing for $100,000. Page has ordered one.
Brilliant! Now if only we can convince all the smog belching pickup truck driving invaders to use their tax rebates as a down payment on sexy electric sports cars.
Their poverty problem solved once again, who could begrudge these world-class egos some world-class debauchery?
There was plenty of time for fun and games, of course. After lunch one afternoon, Branson suggested that the entire gang sail off to Mosquito, a nearby island he also owns, aboard a dozen catamarans. He said there was a party over there.

Page, an avid kite surfer, struck out alone. One of Blair's security personal trailed behind in a motorboat. As the catamarans beached up on Mosquito, music was blaring and bikini-clad women were dancing. Branson deadpanned, "Normally the girls would be naked, but the prime minister is here."
Profit, pretense, and partying. Simple recipe for a non-solution.
UPDATE 21 Mar 2008: If your brain is big enough you don't need to rob banks. You invent fraudulent schemes so massive they are "too big to fail". In other words you manipulate government into collecting taxes for you:
Central banks on both sides of the Atlantic are actively engaged in discussions about the feasibility of mass purchases of mortgage-backed securities as a possible solution to the credit crisis.

Such a move would involve the use of public funds to shore up the market in a key financial instrument and restore confidence by ending the current vicious circle of forced sales, falling prices and weakening balance sheets.
Of course the financiers can think of lots of ways to get paid. That is the only real "service" they provide.
Look at the bright side. They'll blow at least some of the money on "green" gigayachts.