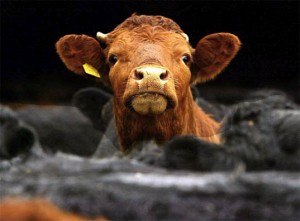 Luke Ford's A Chat With Stephen Bloom, Author Of Postville, from 2003 (via Steve Sailer) is frank and revealing. You may find this Postville context useful.
Stephen: "I've spoken in a lot of public places. It's rare when I'm in a metropolitan venue and someone doesn't stand up and scream something like, 'Shame, shame, shame. For a Jew to say this about other Jews, shame on you.' I'm not going to surrender my role as a journalist based on erroneous inferences that some may draw that this is a story about Jews in general.

"I spoke in Chicago to the American Jewish Congress. I was introduced as a culinary Jew, as a lox and bagels kind of Jew. That did not sit well with me. It made me think that there is some kind of pecking order. That there are certain Jews who are less Jewish than other Jews. That if you keep kosher, you are a better Jew than others. If you go to synagogue every week, somehow you are a better Jew. It was a rating game. I didn't like being relegated to the bottom of that rating card. I think that fractures the collective nature of what it is to be a Jew."

Luke: "I know you emotionally didn't like it but didn't you intellectually realize that there was something to it, in that only the people who observe Jewish Law are going to perpetuate Judaism and the Jewish people?"

Steve: "No. If you and I were together, I'd probably be grabbing your shoulders right now and shaking you. Absolutely not. It's not in an intellectual way, it's in a visceral way that I found that offensive. My son Michael, his Hebrew name is Moishe, was just Bar Mitzvahed two weeks ago. To say that because I like lox and bagels that I'm not going to carry on the tradition of Judaism, shame on you. Shame on anyone. That's like the Orthodox saying, 'The Conservatives are the goyim.' That's like the Conservatives to the Reform, 'They don't know anything.' No, that's a bunch of bulls—. My kid is just as Jewish as any of those kids in Postville. And my kid read his parsha [Torah section] without mistake. My son wore a tallit and was able to carry a Torah around a synagogue. And to say that somehow because I don't keep kosher, I'm less committed to carrying on a Jewish tradition. No, that's the height of hypocrisy."
It appears Ford understands the nature of judaism better than Bloom does. It is not liberalism. Modern liberalism, or neo-liberalism, is anti-racialism, an ideological solvent whose core tenet, and primary effect, is to dissolve racial consciousness. That's all.
Bloom is confused. One moment he's noting how his jewish critics cry shame, then he does it to Ford. He decries the internal pecking order of jews, then he explains how he, vicariously, claims a place in it. After Bloom ticks off a list of exclusive metrics by which he separates himself as a jew from non-jews Ford fingers the core contradiction facing every liberal who simultaneously professes themselves jew:
Luke: "Do you think it is wrong of Lubavitchers to ignore non-Jews?"

Steve: "They can do what they want. The way I carry on my life, I want to include people. There are too many bountiful things in this world for me to put blinders on so I can't allow myself to say hello to somebody on a Saturday morning in the middle of Iowa because his mother isn't Jewish. No, that's what you call racism. It's based on blood. Lubavitchers don't even see the guy on the sidewalk because to acknowledge him would be the beginning of assimilation. Then his children will play with my children and that's the end of our faith. I don't think it is the end of my son's faith if he plays stickball with Hispanic kids. I want him to do that."

Luke: "How would you feel if he married a non-Jew?"

Steve: "That's his decision. Isn't it presumptuous for me to tell my son to marry somebody based on solely on who somebody's mother is?"

Luke: "I don't think so, but I affiliate Orthodox. We're talking about the clash of Orthodox Judaism with modernity."
Bloom is in denial. He denies race. He denies that he is not a good jew. He denies the one contradicts the other. Most jews resolve the contradiction by understanding liberalism as anti-racism, specifically anti-Whitism. Bloom adheres to anti-racialism. He tries lamely to hold jews to the same standard of racial disarmament he expects of Whites. And he fails. Good jews will not have it.
What interests me is not orthodoxy or modernity. It is the clash between jews and Whites. What distresses me is the deleterious effect that clash is having on my people. Whites. The problem is that anti-racialism, anti-racism, and philo-semitism have come to dominate White thought. Generally speaking our leaders deny race, dislike Whites, and love jews. Just like jews.
This is good for jews, but bad for Whites. Bloom can see it. My anti-anti-semite foil Larry Auster can see it. Most jews can see it. Or they could if they ever turned their self-obsessed thoughts about what's good for them outward and recognized that Whites might think the same way about themselves. The problem is: they won't and we don't. We cannot expect jews to change. The majority perceive that as bad for themselves. Get it? It's up to Whites to set aside the anti-racialist crack pipe. Recognize that we are White. Recognize that anti-racism is anti-Whitism. And think, as Whites: What is good for Whites?