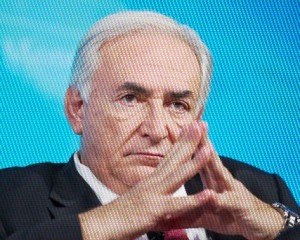 But not for fraud or corruption.
I.M.F. Head Is Arrested and Accused of Sexual Attack – NYTimes.com:
The managing director of the International Monetary Fund, Dominique Strauss-Kahn, was taken off an Air France plane at Kennedy International Airport minutes before it was to take off for Paris on Saturday and arrested in connection with the sexual attack of a maid at a Midtown Manhattan hotel, the authorities said.

Mr. Strauss-Kahn, 62, who was widely expected to become the Socialist candidate for the French presidency, was apprehended by detectives of the Port Authority of New York and New Jersey in the first-class section of the jetliner, and immediately turned over to detectives from the Midtown South Precinct, officials said.

The New York Police Department took Mr. Strauss-Kahn into custody, where he was "being questioned in connection with the sexual assault of a hotel chambermaid earlier this afternoon," Deputy Commissioner Paul J. Browne, the department's chief spokesman, said Saturday night. "He is being arrested for a criminal sex act, attempted rape and unlawful imprisonment."
The link in the text above is to an article from February 18 which provides some background on Strauss-Kahn, painting him as a victim of French nationalists. Strauss-Kahn Has France Talking About a Presidential Run – NYTimes.com:
He has been called a member of "the caviar left," out of touch with his own more left-leaning party. Some wonder if he might lose in party primaries despite his high poll numbers, which they say are based partly on name recognition and unhappiness with the current choices.

But there have been other, uglier notes in the right's reaction, circling around the fact that Mr. Strauss-Kahn is Jewish. Christian Jacob, a legislator and farmer, described him as an urban intellectual — a "bobo," short for "bourgeois-bohemian." Mr. Jacob said that Mr. Strauss-Kahn did not represent "the image of France, the image of rural France, the image of the France of terroirs and territories." This notion of rootless cosmopolitanism, of being out of touch with the soil and the mystery of "la France profonde," is an old trope for foreign and Jewish influence.

Even the president of France's main Jewish organization, the Representative Council of Jewish Institutions of France, called Mr. Jacob's comments "a very great clumsiness." The group's leader, Richard Prasquier, said that as a farmer, Mr. Jacob may have "a particular feeling for the soil," but that it was not "an essential criterion for leading the nation." He added that he hoped "the political debate will become more elevated."

Pierre Moscovici, an ally of Mr. Strauss-Kahn, was blunter. "The attack resembles a little the rhetoric of the far right between the two world wars," Mr. Moscovici said. "There is something unhealthy here," he said, and while Mr. Jacob "is not a bad guy, I ask him to pull back his statement and change his song."

On Wednesday, Mr. Jacob denied any anti-Semitic feeling, saying that "as a farmer, I can't recognize myself or identify with him."

"He doesn't incarnate the rural world, that's all," he continued. "I reacted with my peasant core, as a farmer."

Of course Mr. Sarkozy is also seen as an urban figure, a lawyer with no roots in rural France, and, although Roman Catholic, of Jewish ancestry on his mother's side.

The right's reaction was perceived as a shot across the bow of Mr. Strauss-Kahn, who has also had a reputation for womanizing, and had to admit to an affair with an economist at the fund, who later left. He was cleared of harassment or abuse of power, but was criticized by the board in 2008 for "a serious error of judgment."
More sordid details of Strauss-Kahn's present predicament can be found in Top French politician, International Monetary Fund head Dominique Strauss-Kahn held investigation of sodomy charge – NYPOST.com:
The married Strauss-Kahn was in his bathroom, said sources. He emerged naked, grabbed her and "he jumps her," a source said.

Then, Strauss-Kahn allegedly threw the housekeeper on the room's bed and forced her to perform oral sex on him, said the sources.

The maid managed to break free and ran to a hotel worker to tell what happened, said a source. Soon afterward, Strauss-Kahn got dressed and headed off to Kennedy Airport for his flight to Paris.

When he was approached on the plane by Port Authority cops, he said, "What is this about?" sources said. He was then taken off without handcuffs.

Two law enforcement sources said Strauss-Kahn was trying to flee the US. Police said he left his cellphone and other personal items in the room.
A high-profile jew accused of a sex crime tries to flee to France? I've seen this movie before.
Based on the outrageous defense of Roman Polanski we can expect to see some familiar patterns emerge as this controversy develops:
– The mainstream media and blogosphere will quickly offer a number of op-eds in defense of Strauss-Kahn.
– A few pundits, especially jews, will make the most outrageous arguments, twisting facts and logic to excuse Strauss-Kahn and blame others.
– Strauss-Kahn's jewishness will be part of the defense, insinuations will be made that he is persecuted because he's jewish.
– Few mainstream pundits will openly condemn Strauss-Kahn, but reader responses to the defenders will lean against him, based on the expectation that he be prosecuted like anyone else would.
– As this public opinion becomes obvious and a direct defense of Strauss-Kahn becomes more obviously at odds with it narratives will be offerred which shift blame elsewhere – to the victim, "Puritans", "Americans", or some other scapegoat.
Like Polanski, Strauss-Kahn is rich and famous. Unlike Polanski, Strauss-Kahn wields substantial political power. His friends won't need to petition the government for his release. His friends are the government. Thus he could very well be cleared and released more quickly and with less media fanfare than Polanski was. On the other hand Strauss-Kahn doesn't need to be extradicted. The crime he's accused of is fresh, not decades old. His accuser has not recanted. Yet.
Can he claim diplomatic immunity?
As a last resort, if the accuser can't be discredited or bought off and the government won't just spring him, Strauss-Kahn might indulge the public and the court, get convicted, and then escape justice by absconding to France.