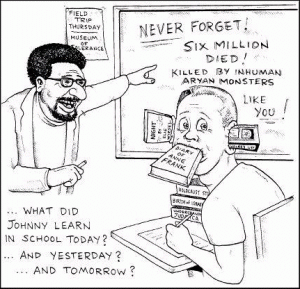 Facebook's Holocaust-Denial Hate-Speech Problem, Lloyd Grove, The Daily Beast, 18 Aug 2011 (my emphasis):
Is Facebook in denial about Holocaust denial?

For years, international organizations opposing anti-Semitism have been urging the planet's preeminent social-networking platform to delete any content that asserts the Nazi-orchestrated extermination of 6 million Jews never took place.

And for years, officials of Facebook, boasting more than 750 million active users, have refused, insisting that mere denial of the Holocaust, however "repugnant and ignorant," doesn't constitute "hate speech" as defined by Facebook's Terms of Service policy prohibiting "content that: is hateful, threatening, or pornographic; incites violence; or contains nudity or graphic or gratuitous violence." (Which gave a huge opening to TechCrunch founder Michael Arrington, who noted that while Facebook was meticulously removing photos of breast-feeding women, it was allowing the proliferation of Holocaust-denial pages. His mordant headline: "Jew Haters Welcome At Facebook, As Long As They Aren't Lactating.")

Facebook's critics—including such groups as the Anti-Defamation League and the Global Forum for Combating Anti-Semitism, which describes itself as an Israeli-led "alliance of statesmen, parliamentarians, diplomats, journalists, legal experts, NGOs and scholars"—argue that Holocaust denial is, by definition, an expression of hatred for the Jewish people.

"Holocaust denial is basically a form of classic anti-Semitism," said Deborah Lauter, ADL's director of civil rights and its cyber-hate response team. "It's anti-Semitism per se because it serves as a powerful conspiracy theory that basically says the Jews have manipulated history to advance their own worldview, whether to create sympathy or world domination. In other words, we have fabricated this monstrous event in history in order to further our own hidden agenda."

Facebook spokesman Simon Axten doesn't see it that way.

"We find Holocaust denial to be repugnant and ignorant, just as we object to many of the other ideas expressed on Facebook," Axten told me via email this week. "We've come to the conclusion that the mere statement of denying the Holocaust is not a violation of our policies. We recognize people's right to be factually wrong about historical events."

The controversy surrounding Facebook's free-speech position isn't especially new. It has been a matter of anxiety among Jewish groups at least since November 2008, when blogger and attorney Brian Cuban—the less-famous brother of Dallas Mavericks owner and Dancing With the Stars contestant Mark Cuban—sounded the alarm and prompted a spate of media attention.

But the issue bubbled up anew last month when a group of survivors of the Nazi death camps wrote to Facebook asking that the company's broad-minded policy be reversed. It came up again on Tuesday, when Australian computer scientist Andre Oboler and Canadian lawyer David Matas, co-chairmen of the Global Forum's Online Anti-Semitism Working Group, released a letter they sent to Facebook founder and chief executive Mark Zuckerberg after they attended what Oboler calls a "frustrating" video conference with an executive of Facebook's European operations. The Facebook exec politely listened to the group's concerns, Oboler told me from Melbourne, then reiterated the company line.

"We call on Facebook to abandon its insistence on treating Holocaust denial in a context-free manner, in which it is considered nothing more than the rejection of a historical event," Oboler and Matas wrote to Zuckerberg. "The context makes it clear that there is no meaningful distinction between Holocaust denial and incitement to hatred against Jews … We ask that Facebook recognize Holocaust denial as a form of hate speech, issue a statement to this effect, and do its utmost to remove Holocaust denial from the Facebook platform."

In his email, Facebook's Axten stated that "in practice, we end up removing the vast majority of Holocaust denial content that's reported to us because it's explicitly hateful or threatening. Most instances of Holocaust denial on Facebook (or anywhere else) are accompanied by threats or clearly anti-Jewish statements, which run afoul of our policies. We remove these as quickly as possible when they're reported to us, and the result is that there is actually very little of this kind of content on Facebook."

ADL's Lauter gives Facebook, and especially Axten, credit for "seriously engaging" on the issue, and supports his claim that the company has been responsive to reports of hate speech. She notes that she has led several workshops in Palo Alto, Calif., with key Facebook employees to alert them to the nuances of Holocaust denial, anti-Semitism, and related concerns. But she disputes Axten's assertion that there is "very little of this kind of content on Facebook."

"We're talking probably hundreds of thousands [of Facebook-hosted pages and postings] as a general problem," she told me. "The metrics are hard to do. We would love it if, as part of their internal operations, Facebook would help with a system for coming up with those metrics, so we could see benchmarks—is it getting worse or better? How do you quantify the incidence of anti-Semitism? The whole flood of the Internet shows that, and you can't even document the number of people expressing their hate thoughts."
Oboler pointed out that Holocaust denial is codified as hate speech and thus against the law in 13 European countries, including Germany and Austria, and that Facebook manages not to violate local ordinances by blocking the various denial pages in the relevant jurisdictions. He said his colleagues, "who have been approaching Facebook with an open mind and in a spirit of cooperation to solve this problem, are becoming increasingly frustrated with Facebook's irrational stubbornness on this issue and their attempts to blur the issue."

The irony, of course, is that Zuckerberg and many of his employees are Jewish, and Oboler speculated that "maybe, as a result, they are bending too far in the other direction to let everybody know that they support free speech."

Facebook's Axten acknowledged in his email: "Many of us at Facebook have direct personal connection to the Holocaust, through parents or grandparents who were forced to flee Europe or relatives who could not escape. We believe in Facebook's mission that giving people tools to make the world more open is the best way to combat ignorance and deception, though we recognize that others may disagree."
The irony here is not in the good-jew/bad-jew theatrics. Despite their phony concerns about free speech the article makes clear that the "vast majority" of the content any self-righteous jew regards as repugnant, ignorant, or hateful is removed as quickly as possible. The hyperventilating and special pleading here is about removing what remains. Their jew-centric debate is about just how special the special protection for jewish sensibilities should be.
If there's any irony here it's in so many hyper-sensitive, hyper-critical jews portraying themselves as a group as the victims while they argue amongst themselves about just how far to push the victimization of those who vex them.
(Examples of the consequences of jewish hostility and the kind of criticism they don't want to hear can be found in UK Thought Criminals Sheppard and Whittle Jailed in LA.)