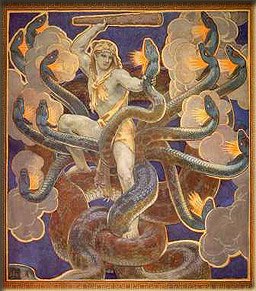 Michael O'Meara sums up his latest essay, White Nationalism is Not Anti-Semitism, with this telling comment:
The anti-Semites, though, are totally out of control and need a wake-up call; I think their ignorance, reductionism, and resentment are a disgrace to everything associated with nationalism. Without them we may be fewer (for a while), but we will certainly be better — and better able to convince others that we're not just a bunch of Jew-obsessed crackpots.
William Buckley, Lawrence Auster, Peder Jensen (Fjordman), Guy White, and Ian Jobling have made similar calls in similar terms.
O'Meara projects his own ignorance, reductionism, and resentment onto the objects of his frustration. And who wouldn't be frustrated with the low, hateful group of losers he imagines; so obscure and crazy that he cannot name even one, and yet so critically important that he feels compelled to confront and vanquish them.
For my part I try to stay focused on real people who wield real power. If so many of them were eskimos or serving eskimo interests then naturally their regime (and O'Meara) would be scapegoating eskimo-obsessed crackpots. C'est la guerre.