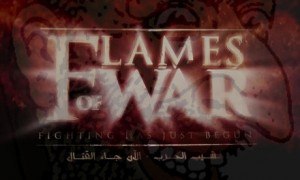 Islamic State Issues Video Challenge to Obama, Jew York Times, 17 September 2014:
In one of the Islamic State's first responses to President Obama's declaration that he would "degrade and ultimately destroy" it, the group released a short video late Tuesday in which it appeared to say that its militants would kill American ground forces should President Obama deploy them.
The clip is only 52 seconds long and is billed as a preview for a longer video. With slow-motion replay, quick edits and high-quality video images, it looks like a Hollywood trailer.
In the background, Mr. Obama is heard saying, "American combat troops will not be returning to fight in Iraq." The screen goes dark, followed by a clip of what appears to be a militant for the group who is preparing to kill men on their knees.

The words "Flames of War" appear, with the phrase "Fighting has just begun" below. It ends: "Coming Soon."
YouTube has already removed the video, perhaps for violating some Hollywood copyright.