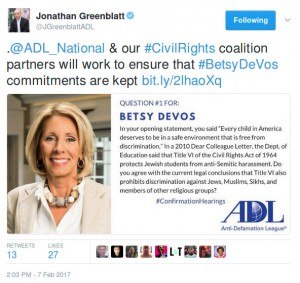 Pictured is a screenshot of this twit from Jonathan Greenblatt, which in turn links an ADL blog post, New Secretary of Education Betsy DeVos: Promises Made, Promises to be Kept.
A search for the language in this twit brought up a more detailed account from a Jerusalem Post op-ed, US Jewish students now protected from anti-Semitic abuse, 17 November 2010:
After a six-year Zionist Organization of America campaign, the Department of Education's Office for Civil Rights announced an important policy benefiting Jewish students in elementary, secondary and post-secondary schools. In a letter issued on October 26, OCR declared that it will enforce Title VI of the Civil Rights Act of 1964 to protect Jewish students from harassment, intimidation and discrimination at federally funded schools.

This is a breakthrough. Until this announcement, OCR wouldn't enforce Title VI to protect Jewish students, leaving them without the same civil rights protections that have been afforded to other ethnic and racial groups since Title VI's enactment in 1964.

It was OCR's policy denying Jews the protection of Title VI that largely accounted for the agency's decision to dismiss the complaint the ZOA filed in 2004 on behalf of Jewish students at the University of California at Irvine. UCI students had been subjected to years of anti-Semitic harassment and intimidation, described in detail in the ZOA's 11-page complaint to OCR.
One of the authors of that op-ed was quoted saying something similar several years earlier. SPME: New Legal Tools Fight Anti-Semitism, CLJ's Susan Tuchman Says, The Jewish Chronicle of Pittsburgh, 5 July 2007:
"Campus anti-Semitism is a serious problem," [director of the Zionist Organization of America's Center for Law and Justice (CLJ), Susan] Tuchman said, "but the good news is there is a legal tool to address it."

That legal tool is Title VI of the Civil Rights Act of 1964. Thanks in part to the efforts of Tuchman, anti-Semitism can now be challenged under Title VI.
The good news, Tuchman said, is that the inclusion of Jews as a protected class under Title VI was recently endorsed by the U.S. Commission on Civil Rights, a bi-partisan agency that investigates and studies discrimination, reporting its findings to Congress and the president. In 2006, the Commission recognized that anti-Semitism encompasses more than name calling and threats, and that sometimes it is expressed as "anti-Israelism" or anti-Zionism.

The Commission accordingly recommended that colleges and universities come out and condemn anti-Semitism, Tuchman explained. The Commission rejected the argument that universities could remain silent because of the perpetrators' right to free speech; instead, the Commission said, the schools had a moral obligation to take a stand against anti-Semitic speech.

The Commission's findings have sent "a powerful message to colleges and universities," Tuchman said.
The OCR had already publicly conceded to jew demands for special treatment in 2004 – Title VI and Title IX Religious Discrimination in Schools and Colleges, 13 September 2004:
OCR has recently addressed two kinds of race and sex discrimination allegations commingled with allegations of religious discrimination. First, since the attacks of September 11, 2001, OCR has received complaints of race or national origin harassment commingled with aspects of religious discrimination against Arab Muslim, Sikh, and Jewish students. Second, OCR has recently encountered allegations of racial and sex discrimination commingled with allegations of religious discrimination against Christian students. OCR does not tolerate either of these forms of harassment, which are prohibited by Title VI and Title IX.

As we pass the third anniversary of September 11, 2001, we must remain particularly attentive to the claims of students who may be targeted for harassment based on their membership in groups that exhibit both ethnic and religious characteristics, such as Arab Muslims, Jewish Americans and Sikhs. President George W. Bush and Secretary Rod Paige have both condemned such acts of bigotry. As President Bush has said, "those who feel like they can intimidate our fellow citizens to take out their anger don't represent the best of America, they represent the worst of humankind, and they should be ashamed of their behavior."
So the six-year campaign mentioned in the 2010 article appears to have actually been about cementing and/or broadening a special privileged status for jews. And now seven years beyond that organized jewry is still screeching as if at any moment jews might be treated as if they are White.
I touched on this particular point in Jews Versus Whites – Part 2. Behind the Orwellian language of civil rights – the disingenuous universalist moralizing against the evils of discrimination, disparate treatment, and disparate impact – lies a fundamental distinction between protected classes and everyone else.
So what the jews have been screeching about all this time, as if they are victims, is that the government, under the false pretext that "jew" is a religion, discriminates in favor of jews and assigns them special legal privilege as a protected class.