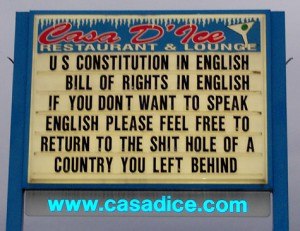 Principles
The citizens of any nation have the right and duty to create laws to suit their own collective needs and desires. Among the most fundamental laws are those that control immigration and naturalization.
When a nation's laws are violated there are incalculable costs to the health, wealth, and security of its citizens. The larger or more frequent the transgression, the larger the costs.
If and when a civil government proves itself incapable of enforcing its own laws, for example by failing to police its borders and defend its citizens from invasion, then the citizens have every right to replace that civil government and its laws.
Laws
No legal immigration. Set all quotas and limits to zero.
No naturalization. When your visa expires it's time to go home.
No birthright citizenship. If neither of your parents is a citizen then you are not a citizen.
No dual citizenship. Choose your country. If it isn't this one then go home.
No chain migration. Your relatives are not welcome.
No refugee relocation. They'll have to go some place else.
Enforcement
No sanctuary. Secure the interior. Otherwise enforcement is toothless.
No holes. Secure all points of entry. Otherwise securing the interior is more difficult.
No doubt. It is the government's responsibility to maintain citizenship and visitor records; and to provide cheap, efficient, and error-free verification of these records to any citizen upon demand.
No forgery. Record the biometric information of all visitors. ID cards are inherently insecure.
No amnesty. Deport and ban from future entry any alien who violates any law. This includes those who are already here illegally or attempt to enter illegally, regardless of origin or length of residence.
No abetting. Deport and ban from future entry the parents, children, spouses, and living partners of any alien who violates any law.
No profit. Severely punish businesses caught employing illegal aliens. This will include fines, revocation of licenses, cancellation of government contracts, and personal liability for its officers and owners.
No treason. Government officers found guilty of subverting immigration laws or derelict in their duty to uphold them will be tried for treason. The penalty is death.
Criticism
The tone of these policies is too negative.
This is unavoidable. Criminal law primarily concerns forbidding behavior society deems undesirable. Ignoring the behavior will not make it go away.
These policies would produce a police state.
Massive and flagrant violation of our laws and the tremendous social and economic burdens brought by those lawbreakers threaten the exact opposite: anarchy. The status quo and our current course seem in fact to promise the worst of both: what Sam Francis called anarcho-tyranny.
These policies would produce riots.
This is an argument against immigration. Why should any society accept aliens with a predilection to riot?
These policies are xenophobic, racist, or bigoted.
This argument is hypocritical. It presumes that citizens are irrational, inhumane, or otherwise inferior to immigrants.
These policies would ruin the economy.
Poppycock. First, "the economy" is only a subset of citizen interests, and their concerns for it are thus already incorporated into their laws. Second, there is another, more honest name for a money-making idea that requires a constant influx of ever more resources to work. It's called a "pyramid scheme". Such schemes inevitably collapse and the only people who ever get wealthy are those at the top.
My family/friend/worker needs to immigrate.
No, they don't. Any citizen is free to leave at any time for any reason. For example, you may leave to meet or stay with your family/friend/worker somewhere where the immigration laws are more permissive.
You're living in a fantasy world.
I'm reacting perfectly rationally to the awful reality I see. Those who believe that nationhood is a proposition, that everyone is an immigrant, that there are jobs citizens won't do, or that we make our country better by admitting poor, uneducated, hostile people – they are the ones living in a fantasy world.
You just don't like brown people.
The fact is there are plenty of nations where brown people are the majority and can expect to remain so for the forseeable future. The same cannot be said for white people. So it makes more sense to turn the accusation around: Those who advocate open borders for majority white countries do so because they just don't like white people, or because they just like brown people more.
You're a coward/xenophobe/anti-semite. You don't understand history/government/power/people.
This is ad hominem, as are the previous two criticisms. Please criticize the ideas, not the admittedly ignorant and flawed nobody who puts them forth.