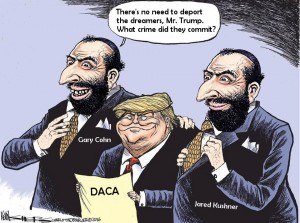 Stephen Miller Stayed in the Shadows to Kill His Boss' Deal:
That Miller operated largely out of view was by design. Multiple sources in the Trump White House tell The Daily Beast that he is acutely aware of how other senior Trump aides—including former chief strategist Steve Bannon, another immigration hardliner—have been banished to the doghouse by President Trump for assuming too large a public profile.

Miller worries about being portrayed as the true master of Trump's immigration policy—a "President Miller" capable of vetoing any "deal" the actual president might strike with Democratic leaders—and has operated more carefully and less ostentatiously than someone like Bannon.

"He actively fears becoming that… [and] goes to great lengths to avoid the 'Bannon overlord' image that killed Bannon" in the Trump White House, one of Miller's West Wing colleagues told The Daily Beast. "The last thing he wants is for the president to see him as some showboat."
Perfectly typical jew behavior. Miller hasn't been hounded with the same loxist gusto as Steve "GOY BYE" Bannon or Sebastian "NAAAAZI IN OUR WHITEHOUSE" Gorka. Rather than admit Miller is treated differently because he's a jew, the pretense here instead is that he just cleverly avoids attention.
In reality, the use of the "President X" meme to goad Trump into firing someone has been driven exclusively by the jewsmedia, which has conspicuously passed on using it against Miller or the gaggle of influential jews who supposedly fear Trump. Again, the reality is that the jews around Trump are taunted primarily by their own tribemates, who want them to more emphatically speak and act for the benefit of jews, against Whites. And unlike the string of non-jews whose heads jews have demanded and Trump has consequently dumped, the jews whom jews screech at have a tendency to retain their positions of power and influence.
The irony in all this is that while the screeching about "President White Supremacist" grows ever louder, the true master is President Jew, and the kikeservative-in-chief is totally OK with that.