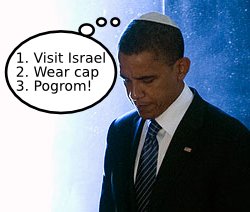 ABC News' Jake Tapper: Obama Won't Answer Holocaust Question
By Debbie Schlussel
An Israeli journalist called out to Obama: "Can you ensure that there will be no second Holocaust?"

Obama walked into the museum's main building without responding. . . .
Schlussel's response:
Disgusting. The question is a no-brainer. If you don't have an automatic, "I will assure that there won't be a second Holocaust," response, then you don't deserve to occupy a square foot of 1600 Pennsylvania Avenue.
Apparently Obama didn't get the memo. Besides visiting israel and donning a jewish cap all US candidates for president must now also turn off their brain and make an unqualified pledge to rescue jews whereever they go from whoever they consider to be their enemy. Otherwise you're just a "yarmulke-wearing fraud". For her readers it's an invitation to vent their hitlerosis.
Frankly I'm envious. I'd like a reporter, any reporter, to ask either Obama or McCain: "Will you defend America from invasion?" Sure I'm like Hitler just for wanting that question asked. And I know the reporters and politicians all know the answer is no. But hearing the answer out loud might help a few more bitter gun- and bible-clinging redneck racists in fly-over country understand that upon joining the US military their utmost priority will not be to defend their families and friends, it will be to serve the interests of people who consider them bitter gun- and bible-clinging redneck racists and who couldn't care less about the invaders flooding fly-over country. The reporters and politicians know that too. That's why that question doesn't get asked.
UPDATE 26 July 2008: Auster objects to Rush Limbaugh's "unhinged characterization of Obama's speech" in Germany, calling it "insanely overwrought, imputing all kinds of vicious thoughts to Obama that Obama never stated or implied":
America sucks, America's deficient, America's guilty, but America is now willing to pay the price because we have a Messiah who understands the faults, the egregious errors made by the United States and her people. We are racists, sexists, bigots, homophobes. We discriminate against people who worship differently than we do, have skin color different from ours, and we have not always behaved properly in the world. And we torture. And we, of course, are biased against people who want to get into our country illegally. We have a lot to pay for.
I find this to be a fair characterization of cultural marxist talking points. The problem with Limbaugh, as well as Republican conservative commentators Hannity and O'Reilly, is that they consistently misidentify both the cultural marxists and their target. They don't want to be seen as racist, so they use "America" and "left" as euphemisms for White and anti-White.
It is this fear of being openly pro-White, just as much as their political partisanship, that causes their blind spots. In contrast to Auster I don't think Limbaugh's failure to criticize Bush, especially relative to Obama, means he is "incapable of seeing truth" or is "in a frenzied state in which they accept any negative statement about the other side, no matter how absurd, and see only goodness on their own".
That's ridiculous. But it certainly is a good description of Auster himself when he flips into anti-anti-semite mode. In that mode he imputes all kinds of vicious thoughts on people that they never stated or implied. And Auster doesn't seem concerned enough about unhinged characterizations to object to this:
E. writes:

Obama was certainly in the right country for his rousing speech–the only thing missing was the shouts of "Sieg heil."
Auster I think senses that Limbaugh's words are perhaps too accurate a description of cultural marxism. Limbaugh's "American" listeners might start trying to understand where it came from. Whites might start thinking about how PC and the whole hate-ideology (racism, sexism, bigotry, homophobia, and the grandaddy of them all: anti-semitism) sprang largely from jewish minds filled with resentment towards Europeans. Whites might realize how over the past 150 years this archetypically jewish victimology has been progressively generalized and applied to minorities of every type and color – except White. The one common theme: Whites are the enemy.
Auster, as usual, wants the buck to stop with "liberalism":
Yes. Liberalism, consistently followed, means the destruction of literally every distinct thing, because liberalism demands the end of all inequality and exclusion, and every distinct thing that exists, by the fact of existing, is unequal to and exclusive of everything that is not itself.
This is not only simplistic, it's wrong. Neither the classical liberal values of fair-play and equality before God and law, nor the neo-liberal values of anti-racism and anti-discrimination eliminate all distinction. Not in theory and not in practice. Neo-liberalism – which dominates Western politics, media, business, and academia – is extremely divisive and makes quite clear distinctions. It is, for example, anti-White and pro-jew. That's why the West has laws promoting "diversity" and punishing "hate". That's why neo-liberals invite violent, uneducated, indigent non-whites from the turd world and send "Americans" out to fight and die in the turd world protecting the interests of international corporations. That didn't happen when America was founded and ruled by White classical liberals, and it didn't become the norm until they lost control.