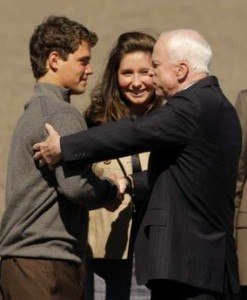 Genocidal anti-racists hate Sarah Palin and her daughter for reproducing while White.
But even that old race-traitor Juan McCain appears to grok, deep down, that a White baby, illegitimate or not, fathered by a self-proclaimed redneck or not, is better than no White baby at all. If I could shake Levi's hand I'd say so explicitly, "congratulations son, now marry the girl and make four more".
Steve Sailer writes:
The Blue Whites are alarmed and outraged to be reminded that the Red Whites can afford to outbreed them and are outbreeding them.
Which is true, but doesn't capture the whole picture. A commenter named Mark puts his finger on the problem:
The thought of the Red Whites outbreeding the Blue Whites would give immense satisfaction, if I didn't simultaneously know that the Blue Whites in concert with many Yellow Reds are importing Blue Bronzes and Blue Yellows and Blue Blacks to outbreed even the Red Whites.
This is precisely what's happening.
Some bigots are not happy about who Sarah associates with:
Jewish Democrats have started to hit Sarah Palin hard for her association with former presidential candidate Pat Buchanan
Obama camp connects the dots for Jews: McCain…Palin…Buchanan…"Nazis":
Barack Obama's campaign, perhaps miffed at all the Democrat-is-weak-on-Israel theme, started striking back at John McCain almost as soon as he tapped Alaska Gov. Sarah Palin to be his running mate. Where the Dems are trying to paint McCain as more financially out of touch with people, they're strongly suggesting that his Christian conservative running mate is no friend to the Jews.

"Palin was a supporter of [MSNBC analyst] Pat Buchanan, a right-winger or as many Jews call him: a Nazi sympathizer," Obama spokesman Mark Bubriski wrote in an email.
This is the likely reason Lawrence Auster thinks Palin should withdraw. It certainly makes more sense than the rationale he's currently peddling, which absurdly focuses on Palin's daughter's child. Clearly a politician's support for israel is paramount to Auster. As the ineffective and pathetic nature of his distaste for White reproductive habits plays out look for Auster to fall back on the same six-degrees-of-naziation smears other members of his extended family are already slinging.
Here's my paramount concern. What is Palin's position on immigration? Whether she was choosen to create all this hullabaloo about experience, pregnancy, and glass ceilings intentionally or not the result is that precious little attention is given to the fundamental, existential problem facing indigenous Whites: the invasion of hostile, ethnocentric, and fecund non-whites who want what we have. The media and our treasonous politicians are all very eager not to discuss that.