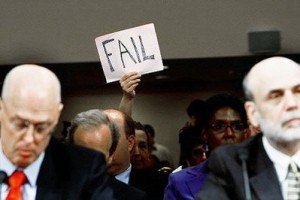 It has been difficult to compose a reaction to the past few weeks worth of economic news. Each time it seems the totality of this monstrous putsch is finally in view yet another grasping tentacle flops out. One inconceivably brazen move has followed another, each pushing farther past precedent and revealing a new, previously unimaginable depth of avarice. The taxpaying cattle have been informed, drip by drip, that we are on the hook for whatever the bankers and their agents in "our" government demand of us. Tens of billions here. Hundreds there. A trillion should fix it. Maybe.
The massive fraud now unfolding demonstrates how financiers hold the real power in this country. Not Bush – nor Obama or McCain after him. And not Congress. The only role for these political figureheads is to point fingers for a while, scream that the sky will fall if they don't act immediately, and finally to join together and rustle the cattle into capitulating to the banker blackmail.
We are witnessing a transfer of wealth unprecedented in size and rate. It is the mother of all liquidity events. The details change on a daily basis, but this much is clear: This is not a constitutional republic. It is not democracy. We live under a plutocracy.
Takuan Seiyo's The Case Of The "Disappeared" Subprime Minority Borrower identifies the most recent roots of this transformation (original links and emphasis):
The financial debacle of a $1.4 trillion pool of subprime mortgages of which at least half are unpayable and 25% are irrecoverable did not start in a political vacuum. For years, the American political Establishment badgered the banking industry about the "racism" implied in its loan portfolio. The denial of mortgage loans to "minorities" at a greater percentage than denial to whites has been deemed a prima facie evidence of racial discrimination.
Finally, with further pushing by different government branches and agencies, mortgage lenders found a solution to inconvenient reality. It was the subprime loan, with sub-viable variations such as "interest-only" and "no-money-down."

No forces were available to combat the American economy's unbalancing by cultural Marxists, socialists, noisy "minority" chieftains and power-hungry opportunists. Instead of leading a counteroffensive, the federal government (mostly under Republicans) pushed toward the fall. And the bankers went along—even though it was their depositors' capital they were converting to cotton candy.

Banks started dishing out mortgages as though they were consolation prizes for the poorly educated of shaky employability, or achievement awards for the undisciplined and uneducable with no collateral.

Overwhelmingly, these prize-winners have been "people of color."
In trampling on rules of sound banking going back at least to medieval Italy, our financial wizards discovered the eternal quest of alchemy—how to convert lead into gold, for a while at least, before it turns into garbage. Employing PhD's in high mathematics, they diced and mixed financial offal, stuffed it into sausage skins, gave this dubious bologna properly pinstriped labels such as "Mortgage-backed Securities" and "Collateralized Debt Obligations", and sold it off by the slice to equally greedy and heedless financial institutions down the line.
Seiyo's analysis is good so far as it goes. He mentions the other prize-winners, the financial wizards, but fails to note the disproportionate participation of the most noisy, self-interested minority of all – jews. Not only are jews disproportionately represented in the concocting of the financial "innovations" whose astoundingly fraudulent scope is now laid bare, they are also disproportionately represented amongst those who got the ball rolling by demonizing "discrimination", and amongst those negotiating the terms of the ripoff-"bail out", and amongst those being "bailed out", and amongst the 24/7 parade of pundits shamelessly shilling for "bail out" via the disproportionately jewish-owned media.
If our nominal leaders insist on pointing at the disproportion of black and latino home ownership as a problem, then it's only right that they also acknowledge these same groups were disproportionate benefactors of loosened lending practices. And as long as group disproportions are worthy of discussion, let's not forget to notice the "contribution" of the US's most wealthy and favored minority group of all. Jews.
"The liberties of our country, the freedoms of our civil Constitution are worth defending at all hazards; it is our duty to defend them against all attacks. We have received them as a fair inheritance from our worthy ancestors. They purchased them for us with toil and danger and expense of treasure and blood. It will bring a mark of everlasting infamy on the present generation – enlightened as it is – if we should suffer them to be wrested from us by violence without a struggle, or to be cheated out of them by the artifices of designing men." – Samuel Adams
Sorry Sam. We failed.
UPDATE 26 Sep 2008: One trillion, five trillion, who's counting? According to a Bloomberg analyst:
So now they try to solve the problem by having this credit bubble actually extended and I think the $700 billion will be like a drop in the bucket because the total credit market in the U.S. is something close to $60 trillion, then you have the CDS market – credit default swap – of around $62 trillion. Then you have the whole derivatives worldwide worth about a notional $1,300 trillion. So the $700 billion is really nothing and the Treasury is just giving out this figure when actually the end figure may be $5 trillion.
He also says that last year total Wall Street compensation amounted to $68B, and of that, executive bonuses were $39B.
Tonight Juan and Hussein bickered over $18B in "earmarks" and $300B in tax cuts. Five and a half years of war in Iraq has cost almost $600B. Imagine how the big boys in the $1300T derivatives market (some 100 times the size of the US GDP, or 2000+ Iraqs) must view these trifling amounts. Think how precious their magically-derived pile of funny money is to them and how it would evaporate if middle class taxpayers got the gumption to revolt en masse. Imagine the gold-plated diaper changes even one month's worth of widespread late mortgage payments would cause. The media pundits have been trying to guilt-trip us for being over-leveraged. Seems to me the big boys are far more leveraged than even the most irresponsible Mr and Mrs Sixpack.