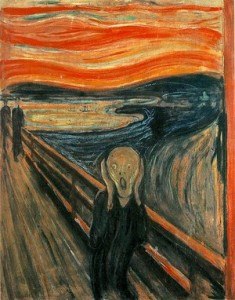 Over the last two weeks or so I've spent quite some time at Hesperado. The blogger there, Erich, is an anti-jihadi who came to my attention via Auster's whining. Erich criticizes Auster using methods similar to my own – paying close attention to his arguments and finding fault with his logic – and has also noticed how poorly Auster responds to criticism.
In my exchanges with Erich there is nothing terribly interesting or new to regulars here. Early on he informed me of his belief that:
support for Judaism and the Jews is a non-negotiable virtue
and I spent several thousand keystrokes arguing that if he could set this belief aside he might better understand "PC MC" – his shorthand for politically correct multiculturalism.
My comments started in A thick skull and a thin skin and continued in Addendum to the Prospectus: A mechanism for appropriate ostracism.
Despite these efforts Erich appears unmoved. He has however allowed me to make my argument and has even responded with some substance. This is of course far more than I would get in any forum controlled by commissars Auster or Jobling and their Urge to Purge.