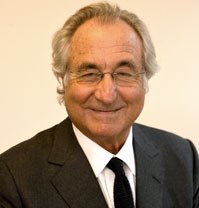 We start with some facts as recovered from many sources sprinkled across the philo-semitic media. My emphasis.
'All Just One Big Lie'
Bernard Madoff was a Wall Street whiz with a golden reputation. Investors, including Jewish charities, entrusted him with billions. It's gone.
It may be the largest fraud in the history of Wall Street, authorities said. Madoff is charged with stealing as much as $50 billion, in part to cover a pattern of massive losses, even as he cultivated a reputation as a financial mastermind and prominent philanthropist.
Madoff's investors included a number of prominent hedge funds and the firm of Fred Wilpon, the owner of the New York Mets. Several may have sustained billions of dollars in losses.

But the damage appears to be deepest in the small world of Jewish philanthropy, where Madoff was a leading figure. The North Shore-Long Island Jewish Health System said it lost $5 million. The Julian J. Levitt Foundation, based in Texas and focused on Jewish causes, lost about $6 million. Yeshiva University, a New York institution where Madoff served on the board, said it was examining how much money it invested with his firm.

Madoff's own $19 million foundation, which gave to a range of New York and Jewish causes, also was wiped out.
Madoff's alleged $50 billion fraud hits other investors
"Madoff's investors included captains of industry, corporations — some of which are publicly traded — that used Madoff almost as a high-yielding cash management account, endowments, universities, foundations and, importantly, many high-profile funds of funds," said Douglas Kass, who heads hedge fund Seabreeze Partners Management.

"It appears that at least $15 billion of wealth, much of which was concentrated in southern Florida and New York City, has gone to 'money heaven,'" he said.
Federal agents arrested Madoff at his apartment on Thursday after prosecutors said he told senior employees that his money management operations were "all just one big lie" and "basically, a giant Ponzi scheme."
One woman said that when she called the firm's offices on Thursday she was told it was "business as usual."

Another investor groused, "Business as usual? Of course it's business as usual. We're getting screwed left and right."
"I expect to get back zero," said Floridian Susan Leavitt, who invested through Madoff. "When he tells the feds he has $200 million to $300 million left out of billions, what can you expect?"
Madoff said "there is no innocent explanation" for his activities, and that he "paid investors with money that wasn't there," according to the federal complaint.

Prosecutors also accused Madoff of wanting to distribute as much as $300 million to employees, family members and friends before turning himself in.

Charged with one count of securities fraud, he faces up to 20 years in prison and a $5 million fine. The U.S. Securities and Exchange Commission filed separate civil charges.
Madoff is a member of Nasdaq OMX Group Inc's nominating committee. His firm has said it is a market-maker for about 350 Nasdaq stocks.

He is also chairman of London-based Madoff Securities International Ltd, whose chief executive, Stephen Raven, said the firm was "not in any way part of" the New York-based market-maker.
Details emerged Friday of how Mr. Madoff ran the alleged scam, fostering a veneer of exclusivity and creating an A-list of investors that became his most powerful marketing tool. From New York and Florida to Minnesota and Texas, the money manager became an insider's choice among well-heeled investors seeking steady returns. By hiring unofficial agents, tapping into elite country clubs and creating "invitation only" policies for investors, he recruited a steady stream of new clients.

During golf-course and cocktail-party banter, Mr. Madoff's name frequently surfaced as a money manager who could consistently deliver high returns. Older, Jewish investors called Mr. Madoff " 'the Jewish bond,' " says Ken Phillips, head of a Boulder, Colo., investment firm. "It paid 8% to 12%, every year, no matter what."
One of the largest clusters of Madoff investors was in Florida, where losses could be substantial. Mr. Madoff relied on a network of friends, family and business colleagues to attract investors. According to investors and agents, some of these agents were paid commissions for harvesting investors. Others had separate, lucrative business relationships with Mr. Madoff.

"If you were eating lunch at the club or golfing, everyone was always talking about how Madoff was making them all this money," one investor says. "Everyone wanted to sign up."

Jeff Fischer, a top divorce attorney in Palm Beach, says many of his clients were also Mr. Madoff's clients. "Every big divorce that came through my office had portfolio positions with Madoff," he says.

Two of his investors said that among his clients, Mr. Madoff was considered a money-management legend; they would joke that if Mr. Madoff was a fraud, he'd take down half the world with him.
Mr. Madoff's main go-between in Palm Beach was Robert Jaffe, say several investors. Mr. Jaffe is the son-in-law of Carl Shapiro, the founder and former chairman of apparel company Kay Windsor Inc. and an early investor and close friend of Mr. Madoff's. Mr. Jaffe, a philanthropist in Palm Beach, attracted many investors from the Palm Beach Country Club in Palm Beach, Fla.
"He was a low-key guy," Ms. Manzke says. "He would say, 'Look, I'm a market-maker, and I don't want anyone to know I'm running money.' It was always for select people. He was always closed, he wasn't taking new money."
The federal complaints against Mr. Madoff allege his fraudulent activities came through a secretive private wealth-management wing of Bernard L. Madoff Investment Securities, the investment firm he founded in 1960. On Wall Street, his company was perhaps better known for its operations in market-making — the business of serving as a middleman between buyers and sellers — and proprietary trading.

Through those higher-profile parts of his operation, Mr. Madoff was a pioneer in trading New York Stock Exchange shares away from the exchange. He is a past chairman of the board of directors of the Nasdaq Stock Market as well as a member of the board of governors of the National Association of Securities Dealers and a member of numerous committees of the organization, according to his firm's Web site.

Mr. Madoff owns a home in Roslyn, N.Y., records show, and an elaborate beachfront home and grounds in Montauk on Long Island.

Mr. Madoff and his wife live in an apartment building on Manhattan's Upper East Side where property records list individual apartments valued at more than $5 million. One property database estimated the 2008 market value of Mr. Madoff's two-floor unit to be roughly $9 million. For years he has served as president of the building's co-op board, according to a tenant.
Madoff's arrest in billion-dollar fraud case shocks Palm Beach investors
Bernard Madoff didn't accept money from just anyone. Clients ideally had to have at least $10 million to open an account with his New York investment firm.

While such wealthy people don't turn up just anywhere, the Palm Beach Country Club provided enough to make Madoff's membership in the predominantly Jewish club worthwhile.
Investing with Madoff also was attractive because the returns were so high, Rampell said. Even in recent years, when other securities tanked, returns were as high as 11 percent to 15 percent, he said.
"There is no innocent explanation," Madoff told FBI agents, according to court documents. He told the agents he "paid investors with money that wasn't there," that he was "broke" and that he expected to go to jail.

The only bright spot for investors is that they may be able to get tax refunds if the investment returns were bogus, Rampell said. But, he acknowledged, that would be little compensation, either financially or psychologically, for those who knew him at the country club.
The auto industry may have to grovel for government money, but "bright spots" magically appear for the members of Madoff's network.
Madoff Investors May Be Protected By Government
Judge Says Those Duped Need Aid Under The Securites Investor Protection Act
Meanwhile, a federal judge on Monday threw a lifesaver to investors who may have been duped, saying they need the protection of a special government reserve fund set up to help investors at failed brokerage firms.

U.S. District Judge Louis L. Stanton ordered that clients of Madoff's private investment business seek relief under a federal statute created to rescue cheated investors. Stanton also ordered that business be liquidated under the jurisdiction of a bankruptcy court and named attorney Irvin H. Picard as trustee to oversee that process.

Stanton signed the order after the Securities Investor Protection Corporation asked that steps be taken to protect investors in the scheme, which has ensnared several major banks and prominent figures as victims and could result in as much as $50 billion in losses.

Congress created the SIPC in 1970 to protect investors when a brokerage firm fails and cash and securities are missing from accounts. Funds can be used to satisfy the remaining claims of each customer up to a maximum of $500,000. The figure includes a maximum of up to $100,000 on claims for cash.
SIPC President Stephen Harbeck said in a statement that the fund's task will be harder than in other bankruptcies because of the size of the misappropriation and the condition of the defunct firm's records.

Harbeck said it would be unlikely that the trustee can transfer the firm's customer accounts to a solvent brokerage firm. He added that it was impossible at this point to determine what share each investor might hold in any remaining assets.

From its inception through December 2007, the SIPC has advanced $507 million and made possible the recovery of $15.7 billion in assets for an estimated 626,000 investors, the fund said on its web site.
If the SIPC bails out the Madoff scheme "investors" it will amount to roughly the sum total the SIPC has paid out over its entire 38 year lifetime. Sure, that's reasonable. Ben Bernanke will just have to print another $15B.
Sailer's Bernie Madoff as an "affinity scam" is noteworthy mainly for its comments, including:
up yours new yawk said…

What's interesting about this Madoff scandal is the growing list of liberals and neoconservatives who felt that involvement with charities that work to keep the Jewish bloodlines clean are respectable enterprises to be involved with.

How many Jews are castigating whites for the slightest hint of racial identity and then at the same time funding various "keep it Jewish" charities?
And links in the comments, including I Knew Bernie Madoff Was Cheating, That's Why I Invested with Him:
So why did these smart and skeptical investors keep investing? They, like many Madoff investors, assumed Madoff was somehow illegally trading on information from his market-making business for their benefit.
Auster writes in Catalog of believers:
Here is a story from today's New York Post that names many of Bernard Madoff's clients along with how much they lost. It seems that virtually 100 percent of his believers/followers/marks were Jews and Jewish organizations, and many of them believed in him so much that they had given 100 percent of their investment capital to him.
And from Madoff discussion:
Mark P. writes:

I'm still amazed that a handful of Jews managed to amass $50 billion…

It's like some kind of…overclass…

(wink) (wink)
He links a video of a round table discussion featuring Madoff discussing his business in October 2007, Bernie Madoff on the modern stock market. Watch this video and note the similarity to the financial bullshit shoveled on your TV every evening. The jargon. The confidence. "We make money by taking risks." Risk? What risk? When these brainiacs get in trouble their cronies in government put taxpayers on the hook to bail them out.
One thing that could be revealed by this scandal, but probably won't be, is just how much wealthy jewish "philanthropy" actually goes to exclusively jewish causes. Sailer commenter "up your new yawk" notes the double standard. For jews it is considered perfectly normal to support jewish causes, but the idea of Whites contributing to or participating in or even saying nice things about exclusively White causes is grounds for an accusation that you want to load all the non-Whites onto boxcars and gas them.
A theme that is coming through, loud and clear in what I've heard from the MSM, Auster, and Michael Savage, is sympathy for the "investors". It's disgusting. The people who participated in this scam, whining now that they've lost everything, don't deserve any sympathy. They're like the border-running aliens packed in a van that veers off a cliff trying to escape the police. They're like the bank robbing accomplices who get cheated out of their share by their crooked ringleader.
For years these "investors" thought they were golden, wringing their soft greedy hands with glee over the returns from their invite-only too-good-to-be-legal "jewish bond". It paid them far more than the lowly nobody putzes, ie. the rest of us, could make via honest means, and they knew it. We nobodies must accept a return that is stable but doesn't even beat inflation, or we play 401K roulette and take on real risk. Hands up, how many of you lost big money in your 401K this year and can expect the government to bail you out? Hands up, how many don't have any savings?
This Madoff scheme is being described as the "biggest fraud in history". No, that would be the September bailout as a whole. Madoff is but a small window into finance capitalism's corruption and insolvency. Even so, Madoff's collapse exposes a few major lies upon which the thoroughly judaized progressivist-globalist regime is based: "we're all equal, but some of us are more equal", "we deserve these big profits because we take big risks", and "trust us, we're really smart and know what we're doing".
The white-collar criminals have been running amok for some time. The rest of us have only recently been informed that we and our children will be paying the bill, and though we don't know what the total is we can be sure it's enormous. The brainiacs told us we needed millions of aliens to build homes for millions of aliens. Now we have too many homes and the next thing they'll be telling us we have to legalize all the aliens, right away, and import even more in order to save the Holy Economy – that mother of all pyramid schemes.
Now come these poor jewish millionaire "investors" – "getting screwed left and right". It's perfectly natural for us to wonder, how did a handful of jews manage to amass so many billions? And it's perfectly natural to conclude that it involved screwing the rest of us left and right.