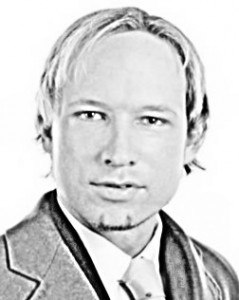 Police dismiss initial fears Norwegian terror attacks were work of Islamist organisations:
The massacre in Norway was the work of a man with extreme right wing views who hated Muslims, police said this morning.

Officers found a series of raving internet posts by 32-year-old Anders Behring Breivik, who was arrested for gunning down children on the island of Utoya yesterday.

National police chief Sveinung Sponheim told public broadcaster NRK that the suspected gunman's Internet postings 'suggest that he has some political traits directed toward the right, and anti-Muslim views, but if that was a motivation for the actual act remains to be seen'.

Six foot tall and blond Breivik is reported to have arrived on the island of Utoya and opened fire after beckoning several young people over in his native Norwegian tongue.

Reports suggest he was also seen loitering around the site of the bomb blast in Oslo two hours before the island incident.
Pictured: The blond Norwegian, 32, arrested over 'holiday island massacre' and linked to Oslo car bomb blasts:
Authorities now claim 91 people were killed – in Oslo and on Utoya Island, 50 miles north of the capital, it was claimed.

Norwegian police said at least 84 were killed at Utoya alone and described the killings as of 'catastrophic dimensions' and 'the work of a madman'.
Teenagers on the Norwegian holiday island of Utoya had to 'swim for their lives' and hide in trees when the gunman fired indiscriminately at them.

Around 700 had gathered on the island for a meeting of the youth wing of the ruling Labour party.
Apparently Breivik targeted Norway's treasonous elite and their children rather than muslim aliens.
2011 Norway attacks at Wikipedia:
Public broadcaster NRK and several other Norwegian media identified the suspected attacker as a blond and blue-eyed Norwegian who expressed right-wing and anti-Muslim views on the Internet.

National police chief Sveinung Sponheim told public broadcaster NRK that the gunman's Internet postings "suggest that he has some political traits directed toward the right, and anti-Muslim views, but whether that was a motivation for the actual act remains to be seen.

He is reported to have written posts on the anti-Islamic[41] website document.no (all his apparent and unconfirmed writings listed; available on this site only in Norwegian).
Via Google Translate:
2009-12-03 01:21:04

Hlund, Fjordman, Hårstad, Rust

I'm NOK much later in the game than him when I have only been politically active for 13 years. I førstegenerasjonsdhimmi (Generation Y). I was active Oslo FrP / FpU in the first 6-7 years (in the cultural conservatives + laissez faire capitalist / liberal camp) and contributed to the Progress Party's success before I stopped. I felt the time was more important to help develop / promote the political doctrines abroad especially British, German, French, American). I ran the business a few years while I studied and earned a few million so I could finance a inntektsløs politically active life. I now use these funds to be able to work full time to further develop / promote the Vienna Academy (Vienna school of thought) that Fjordman, Bat Yeor, Spencer + many others have already contributed so much till. The last three years I worked full time with a cultural conservative works that will help to further develop / promote these political doctrines further.

Anyway, I consider the future consolidation of the cultural conservative forces on all seven fronts as the most important in Norway and in all Western European countries. It is essential that we work to ensure that all these 7 fronts using the Vienna school of thought, or at least parts of the grunlag for 20-70 year-struggle that lies in front of us.

The book is called, by the way 2083 and is in English, 1100 pages).

To sums up the Vienna school of thought:

– Cultural Conservatism (anti-multiculturalism)
– Against Islamization
– Anti-racist
– Anti-authoritarian (resistance to all authoritarian ideologies of hate)
– Pro-Israel/forsvarer of non-Muslim minorities in Muslim countries
– Defender of the cultural aspects of Christianity
– To reveal the Eurabia project and the Frankfurt School (ny-marxisme/kulturmarxisme/multikulturalisme)
– Is not an economic policy and can collect everything from socialists to capitalists

Frankfurt School (kulturmarxisme) is a very ambitious unofficial ideology (and quite unknown to most) and they have succeeded in most areas (except to smash capitalism, European Christianity and European identity, traditions, culture). Vienna school is more a defense against this where we often use the Marxist 'own creations against them (sexual liberation, feminism, liberalism, anti-racism, anti-autoriære arguments).

Vienna school of thought is far from a complete ideology but consists of principles and ideas that are constantly under development. It is unofficial and does not necessarily ever to be recognized.
"Vienna school of thought" is Breivik's term for the milieu centered about Gates of Vienna.
Thanks to Chechar for calling attention to Breivik's comments here.
From For the Record, at Gates of Vienna:
I know Fjordman personally, I know exactly what he looks like, and he does not resemble the alleged murderer in the slightest.

Furthermore, I was in conversation with Fjordman all day today, starting before the shootings, during the slaughter, and afterwards. If he was shooting up Utøya, he was doing an amazing job of communicating with his friends the whole time, even after he was thrown in a jail cell.