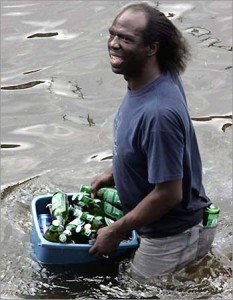 The title comes from the text of Counter-Currents Publishing's Black History Month Resources.
In the news, the first black president has announced his determination to secure the votes of the 5% of his people who didn't vote for him the last time around – Obama Announces 2012 Launch Of "African-Americans For Obama":
Today, we're announcing the 2012 launch of African Americans for Obama.

There's no better time than African American History Month to consider the tremendous progress we've made through the sacrifice of so many—or a better time to commit to meeting the very real challenges we face right now.
There's also no better time to enjoy this classic clip of Morgan Freeman explaining that he doesn't want a Black History Month, with Mike Wallace explaining that jews aren't White.
The photo captures an important moment in recent black history: Looterman's triumph over "racism" in the wake of Hurrican Katrina.