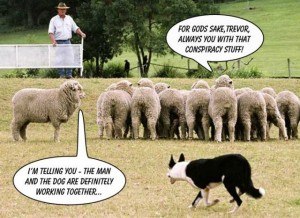 In Are monocausalists paranoid?, Chechar writes:
Yesterday and today I received some emails from Tanstaafl asking me if I have Jewish blood in my veins! Apparently Tanstaafl is now trying to see a Jew under the wrong stone because he's extremely upset about my recent posts criticizing his pet theory, "monocausalism." However upset he may be, that is no excuse for his rudeness in his recent emails. Here there are some sentences of our email exchanges.
The post is pretty brief. The bit above is the most melodramatic portion. I haven't seen projection like this in quite a while.
I have to admit I am disturbed, but not for the reasons Chechar thinks.
It's clear that he's deluded. "Monocausalism" is Chechar's pet theory, not mine. I think I'm patient zero in this theory, and I think it has something to do with the suicide meme.
It's clear that he's angry. Though he's been quite actively bad-mouthing "monocausalism" and "monocausalists" for months now, on his own blog and elsewhere, in his mind I'm the aggressor. He was finally compelled to "respond" after I had the audacity to challenge his theory when he started pimping it on tWn.
Chechar claims to be incensed by my rudeness. I don't buy it. I think he decided quite a while ago that he didn't like my opinions on some things. He wrote about it. And he wrote about it. The lack of interest from me made him seethe, and eventually it turned into a personal hatred.
Whatever the cause I note now his hostility. I still see nothing of substance to respond to. "Monocausalism" seems to me just another name for an old smear.