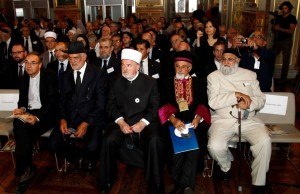 'We're all Muslims, we're all Jews', Israel Jewish Scene, Ynetnews, 6 Sep 2012 (my emphasis):
An initiative of the Foundation for Ethnic Understanding, the conference participants adopted a joint declaration calling for "'zero tolerance' against religious leaders of any faith who misuse their pulpits to incite religious bigotry."

Conference co-sponsors include the European Jewish Congress and the Great Mosque of Paris.

The Gathering of European Jewish and Muslim Leaders attracted some of Europe's most prominent Jewish and Muslim religious leaders who came out strongly against the recent increase in verbal and physical attacks on the two communities.

"There is no conflict between Judaism and Islam," said Rabbi Marc Schneier, president and co-founder of The FFEU, "There is, however, a conflict between those who believe in tolerance and those who want to destroy life."

Dalil Boubaker, rector of the Great Mosque of Paris, addressed the gathering's opening event, emphasizing that "the holy Koran deeply respects all of the three Abrahamic faiths."

The rector called on the religious leaders gathered in Paris' famed city hall, Hotel de Ville, to "lead together to end racism and xenophobia in Europe."

'Assault on all people of faith'

Moshe Kantor, the president of the European Jewish Congress, added that "the recent attacks against our religious practices in Europe are an assault on all people of faith and they are indeed an attack on freedom of expression, the very basis for a free, democratic and tolerant European society."

Rabbi Schneier then called on the participants to take the dialogue – which has been built up over the past four years through FFEU-driven initiatives of rabbis and imams – to the next level.

"We began in 2009 by hosting a delegation of European religious leaders to Washington and New York, with the hope of opening of a window of dialogue between the two communities," recalled Rabbi Schneier.

"Through subsequent meetings in the US and Europe, a bond was forged and the leaders began to intensify their cooperation on areas of mutual concern like the governmental attacks on ritual slaughtering and circumcision in Europe.

"Today it is imperative for both sides to realize that a people who fights for their own right is only as honorable as when they fight for the rights of all people.

"The Jews of Europe stood up for their Muslim brethren when governments began to restrict the building of minarets, and American Jewry defended American Muslims from Islamaphobic incidents by stating 'We are all Muslims.'
So much double-talk about "tolerance" and "rights" – straight out of the well-worn jewish playbook.
It's unrealistic to imagine that outlawing their cultural practices would make them all leave, but it would make a good start. Their complaints and concerns for their own narrow identity and interests serve as a graphic reminder just how much they see common cause with each other, and yet how alien, alienated and alienating, they are to us.
The Foundation for Ethnic Understanding is based in New York and appears to be staffed mostly by jews dedicated to pursing the best interests of jews.