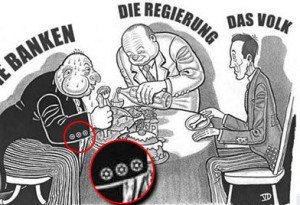 Ethnic origins of US attendees of 2013 World Economic Forum in Davos, race/history/evolution notes, 24 Jan 2013:
Starting from this list of Davos attendees, I've attempted to quickly classify the 711 "USA" individuals by racial or ethnic ancestry.

This is a very rough draft, but the initial breakdown I come up with is:

46.69% Northwestern European
27.43% Jewish
6.05% Southern European
5.49% South Asian
3.80% Middle Eastern
3.38% Latin America / Brazil
3.23% East Asian
2.25% Eastern European
1.55% Black
0.14% North American Indian
2010 Forbes 400 by ethnic origins, race/history/evolution notes, 24 Sep 2010:
Forbes has published its list of the 400 richest Americans for this year. My current estimate of the ethnic breakdown of the list is shown in the far right column below:

| | | | |
| --- | --- | --- | --- |
| | 1987 (%) | 2009 (%) | 2010 (%) |
| Northwestern European | 72 | 52 | 50.5 |
| Jewish | 23 | 35.75 | 36 |
| Italian | 2.25 | 3.5 | 4.25 |
| East Asian | 0.25 | 2.0 | 2.0 |
| Middle Eastern | 1.5 | 1.75 | 2.0 |
| Greek | 0.5 | 1.5 | 1.75 |
| Eastern European | 0.25 | 1.5 | 1.75 |
| South Asian | 0.0 | 1.25 | 1.0 |
| Hispanic | 0.25 | 0.5 | 0.5 |
| Black | 0.0 | 0.25 | 0.25 |

The 2009 estimate is also mine, and I have used the same methodology as before. The 1987 estimate is Nathaniel Weyl's. The first thing I notice is that the Northwestern European proportion of the list continues to decline.
At least 139 of the Forbes 400 are Jewish (34.75%), JTA, 5 Oct 2009:
This list is by no means an exact science. But those who we considered Jewish were those who were of Jewish descent or those who openly identified as Jews either personally or in thier giving.
The Rise of the New Global Elite, by Chrystia Freeland, The Atlantic, Jan 2011:
What is more relevant to our times, though, is that the rich of today are also different from the rich of yesterday. Our light-speed, globally connected economy has led to the rise of a new super-elite that consists, to a notable degree, of first- and second-generation wealth. Its members are hardworking, highly educated, jet-setting meritocrats who feel they are the deserving winners of a tough, worldwide economic competition—and many of them, as a result, have an ambivalent attitude toward those of us who didn't succeed so spectacularly. Perhaps most noteworthy, they are becoming a transglobal community of peers who have more in common with one another than with their countrymen back home. Whether they maintain primary residences in New York or Hong Kong, Moscow or Mumbai, today's super-rich are increasingly a nation unto themselves.
The Rise of the Super-Rich Is a Global Phenomenon, Chrystia Freeland, Yahoo! Finance, 16 Oct 2012:
The growing gap between the top 1% and the rest of the U.S. population has emerged as a major issue in this year's presidential campaign, but it's not likely to narrow much no matter who wins, says Chrystia Freeland, author of the new book Plutocrats: The Rise of the New Global Super-Rich and the Fall of Everyone Else.

As the title suggests, "the increase in income inequality" in the U.S. is not just a domestic development but "is happening in all Western industrialized countries," Freeland tells The Daily Ticker in the accompanying interview. "And crucially you're seeing the same phenomenon in the big emerging market economies."

Freeland says globalization is at the root of income inequality around the world. Both capital and labor are global therefore businesses leaders must maintain a global perspective, says Freeland.

"Inevitably that means the super-elite see themselves as citizens of planet earth" rather than as a citizen of their home country, which means they are less concerned with the health of the middle class in the U.S. or any other country they call home.

In the U.S. the gap between the very rich and everyone else "is wider than at any time since the gilded age," says Freeland.
Image source: World Jewish Congress – Far-right party leader in Austria lambasted for posting anti-Semitic cartoon on Facebook.