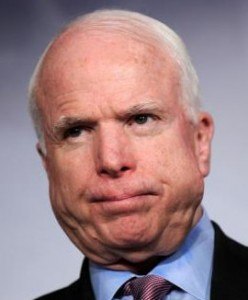 McCain faces angry crowd town hall [VIDEO], UPI.com, 20 Feb 2013:
Again, sir, you're not telling these people the truth. They, they wash our… They mow our lawns, they care for our babies, they, they uh, they, they well… They clean, they wash, those where those people do, sir.
McCain projects his own problem, conflates it with telling the truth. It's evident from his stammering that he knows it too.
It's what I've been doing for 30 years.
McCain cares more for any alien than he cares for any citizen in that town hall meeting.
McCain argues that they serve our interests, that they care for our babies! The truth is exactly the opposite.
Everyone understands that aliens come to the US seeking a better life for themselves. They know that the US government, guided by the same treasonous mindset expressed by McCain, is on their side – it won't keep the aliens out and won't send them home. They know US citizens are forced to care for alien babies – to pay for their birthing, their education, their food, their health care, their safety.
That's why polls show a Majority of U.S. citizens say illegal immigrants should be deported.
What more Whites should understand is that it isn't about money. It is good and right for us to seek a better life for ourselves. To care for our own babies. A good and right government would help its citizens, not undermine them. But the US government has, over the course of decades, gradually been usurped by jews and jew-firsters. Thus US politicians have become increasingly obsessed with defending Israel as a jewish state at the same time they advocate genocidal anti-White policies in the US and every other country founded by Whites. John McCain embodies this reality, slavishly serving the interests of rich jews and poor mestizos, while betraying Whites, rich, poor and in-between.