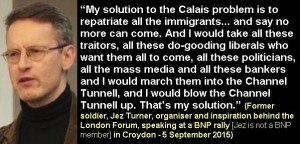 White supremacist on trial for Downing Street speech calling on his 'soldiers to rise up against the Jews'
This short jewsmedia article about Jez Turner's prosecution in Britain is just long enough to include jewry's most common buzzterms:
"singled out the group for hatred"
"defendant is absolutely obsessed with Jewish people and he despises the Jewish race"
"peddled conspiracy theories that Jews control the banks and the media and are determined to achieve world domination"
"The speech was a racial character assassination"
"some sort of white supremacist"
To read such an article is to see the world through the carnie's funhouse mirror, but translating this psychoanalytic jewspeak into plain English isn't hard. The banks and media are controlled by jews, and it's illegal to say so because the government is also controlled by jews. The banks and media and government shit on Whites because jews are the racial, political, and legal opposite of White.