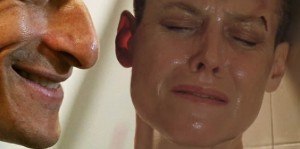 Six common types of disgust that protect us from disease revealed for the first time:
Disgust has long been recognised as an emotion which evolved to help our ancestors avoid infection, but now researchers have been able to show the human disgust system is likely to be structured around the people, practices and objects that pose disease risk.

This is the first time researchers have used the perspective of disease to break the emotion of disgust into its component parts, and identify six common categories triggering disgust – the others being skin conditions such as having lesions or boils, food that is rotting or has gone off and having an atypical appearance.
Disgust triggered by an atypical appearance? OYYYY VEEEEYYYYYY.
The results confirm the 'parasite avoidance theory', in which disgust evolved in animals, encouraging them to adopt behaviours to reduce the risk of infection. This behaviour is replicated in humans where disgust signals us to act in specific ways, which minimise the risk of catching diseases.

Professor Val Curtis, senior author at LSHTM said: "Although we knew the emotion of disgust was good for us, here we've been able to build on that, showing that disgust is structured, recognising and responding to infection threats to protect us.

"This type of disease avoidance behaviour is increasingly evident in animals, and so leads us to believe it is evolutionarily very ancient.
From the paper, The structure and function of pathogen disgust:
It is unlikely to be a coincidence that many of the stimuli that elicit the emotion of disgust in humans are also implicated in the transmission of infectious disease [1–3]. Human excreta, for example, are both a major source of pathogenic viruses, bacteria and helminths and an important elicitor of disgust.
Scatology is a major theme of jew comedy, making a mockery of normal, disease-resistant behavior.
Even if only subconscious, wariness and resistance to pathology and parasites is the biological default. This is not to say that subversion of this norm, a shift in revulsion, cannot be engineered – especially if a hyper-conscious parasite controls the mass media and broadcasts a toxic narrative relentlessly psychopathologizing healthy behavior and celebrating pathological behavior.
Yet instincts persist. Disgust is the common response when Whites hear Barbara Spectre boldly jewsplain how her tribe's White-obliterating agenda must succeed, or "Europe will not survive". Jonah Goldberg promotes the same political AIDS, toward the same end, by less in-your-face means. Whereas Spectre misidentifies the disease as cure, excusing her tribe by crediting them, Goldberg misdiagnoses the immune response as "suicide", excusing his tribe by de-jewing the story.