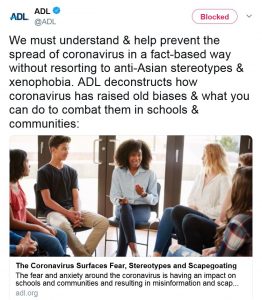 Global pandemic, jews hardest hit.
Coronavirus and the Black Death: spread of misinformation and xenophobia shows we haven't learned from our past:
But the most alarming similarity between the two is the way the public reacted. During the Black Death in the 14th century, Jewish communities appeared to be dying in fewer numbers than their Christian neighbours. Many saw this as evidence that the Jews were intentionally spreading the disease by poisoning wells, rivers and springs. As a result, Jewish people across Europe were tortured and killed.

During later outbreaks in the late 16th to early 17th centuries, this fear was quickly transferred to all outsiders. For example, a proclamation issued during the reign of Elizabeth I stated that an outsider wishing to enter the city could do so only if they possessed a "special certificate" – an item usually reserved for the very wealthy.
Coronavirus: Concern over New Rochelle case stretches to Washington D.C.:
Already, the tentacles of the investigation into the man's contacts have reached to the highest levels of government.