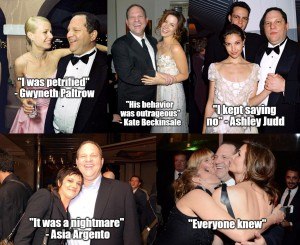 Weinstein's Complicity Machine:
'One phone call and you're done.' 'I'm Harvey Weinstein — you know what I can do.' 'I am a man who has great resources.' 'I have ears and eyes everywhere!'
The producer Harvey Weinstein relied on powerful relationships across industries to provide him with cover as accusations of sexual misconduct piled up for decades.
Harvey Weinstein built his complicity machine out of the witting, the unwitting and those in between. He commanded enablers, silencers and spies, warning others who discovered his secrets to say nothing. He courted those who could provide the money or prestige to enhance his reputation as well as his power to intimidate.
Mr. Weinstein's final, failed round of manipulations shows how he operated for more than three decades: by trying to turn others into instruments or shields for his behavior
Many knew something or detected hints, though few understood the scale of his sexual misconduct. Almost everyone had incentives to look the other way or reasons to stay silent. Now, even as the tally of Mr. Weinstein's alleged misdeeds is still emerging, so is a debate about collective failure and the apportioning of blame.
The studio chief once paid a gossip writer to collect juicy celebrity tidbits that Mr. Weinstein could use to barter if other reporters stumbled onto an affair he was trying to keep quiet. He was so close to David J. Pecker, the chief executive of American Media Inc., which owns The Enquirer, that he was known in the tabloid industry as an untouchable "F.O.P.," or "friend of Pecker." That status was shared by a chosen few, including President Trump.
Mr. Benza and Mr. Weinstein were exploiting a longstanding system of favor-trading between the press and the movie business. Gossip writers need a stream of insider scoops, industry beat reporters need exclusives on the next big deal and glossy magazines need celebrities who can drive newsstand sales. Mr. Weinstein, who wanted glowing coverage, could provide that and more.
The Weinstein brothers used "fear, intimidation, psychological and emotional abuse" on their executives, male and female, said Amy Israel, Miramax's former co-head of acquisitions. "As a spectator to the abuse you were silenced by the fear that you would become the next target," she said. "The only alternative seemingly was to quit — to throw away everything you had worked so hard for and walk out the door."
Weinstein is a microcosm of Hollywood, and Hollywood a microcosm of jewing. Weinstein's behavior is perfectly typical of jew moguls, just as the basic mechanics of Weinstein's power and corruption, the networking, the alternation of reward and punishment, is used by jews as a group to co-opt and/or destroy anyone who might thwart them.
Weinstein was able to carry on for as long as he did exactly because he is a member of a larger criminal tribe, whose methods he shared, and whose mutual protection he still enjoys. Indeed, across time and space Weinstein's tribe has operated Weinstein-wise, as an ethnic gang – a widely-dispersed, obsessively-organized, now skulking, now screeching, genetically-related mafia. But in comparison to any other form of ethnic gangsterism jewing is far more insidious, more virulent, more chronic. Unlike others, the jews have repeatedly infiltrated and manipulated hosts so completely that they've repeatedly managed to privilege themselves and legalize their gangsterism.
Controlling the narrative, the perceptions, the thinking, the morality of their host has been integral to jewing. Properly understood, jewing is part pretense, part practice; part denial, part celebration; part carrot, part stick; part hidden, part in-your-fucking-face-and-whattaya-gonna-do-about-it-goyim. Jewing is parasitism so "successful" that none dare call it parasitism.