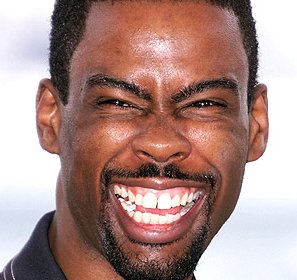 Chris Rock Quotes on Tea Party, Obama, Oscars Jude Law and More, interviewed by Scott Raab at Esquire, 16 Feb 2011:
SR: Like many nice Caucasians, I cried the night Barack Obama was elected. It was one of the high points in American history. And all that's happened since the election is just a shitstorm of hatred. You want to weigh in on that?

CR: I actually like it, in the sense that — you got kids? Kids always act up the most before they go to sleep. And when I see the Tea Party and all this stuff, it actually feels like racism's almost over. Because this is the last — this is the act up before the sleep. They're going crazy. They're insane. You want to get rid of them — and the next thing you know, they're fucking knocked out. And that's what's going on in the country right now.

SR: I hope so. Because it seems like a lot of people feel they just can't live with this man being president.
Rock has made a living on race-based comedy. Here's a skit that's right in line with what Rock told Raab, making it crystal clear how he and his black fans view Whites. If that wasn't clear enough, here's another.
Wikipedia says "Raab is a self-professed 'fat Jew from Cleveland'".
Joe Sobran wrote something apt that comes to mind here:
Western man towers over the rest of the world in ways so large as to be almost inexpressible.

It's Western exploration, science, and conquest that have revealed the world to itself.

Other races feel like subjects of Western power long after colonialism, imperialism, and slavery have disappeared.

The charge of racism puzzles whites who feel not hostility, but only baffled good will, because they don't grasp what it really means: humiliation.

The white man presents an image of superiority even when he isn't conscious of it. And, superiority excites envy.

Destroying white civilization is the inmost desire of the league of designated victims we call minorities.

– Sobran's — April 1997