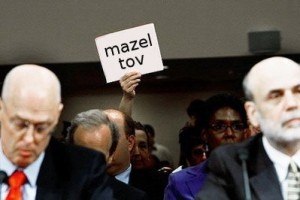 Steve Sailer has written several essays noting the disproportional large involvement of "minorities" in the housing bubble that triggered the Wall Street bailout, and noting the disproportionately small amount of attention the media has paid to it. More specifically he has focused on the role of "NAMs", non-asian minorities, the euphemism he and his regular commenters use for blacks and latinos.
Sailer attributes the past decade of frenzied borrowing and spending in large part to the trendy but misplaced faith among our politically correct managerial class that relatively poor, uneducated, irresponsible blacks and latinos would pay back loans at the same rate as relatively wealthy, educated, responsible Whites. He labels this zeitgeist The Bullshit Years and calls the resulting bubble-bailout The Diversity Recession.
As usual there are some misguided souls who spring forth to defend the "brown people". Often their argument is based on the rationale that putting minorities in a negative light, i.e. discriminating against them, is nothing but a nefarious attempt to blame everything on them, to make them scapegoats, because this is the only thing racists driven mad by hatred can think to do.
This is a dishonest but predictable response made by seemingly intelligent people. It epitomizes the prevailing political correctness and actually helps demonstrate Sailer's point that "the Establishment" is infected with a mental disease which causes them to deliberately deny certain facts, as well as the consequences of this denial – and to villify anyone who will not behave likewise.
The fact is the plutocrats and their managerial class are more than willing to discriminate, to see minorities and their disproportions, even to the point that this willingness motivates offical policies which disproportionately aid minorities, even to the point where such policies are obviously detrimental to indigenous Whites.
Yesterday Sailer posted a reader's more intelligent objection to his ideas. The argument in The Diversity Recession: A debunking is not based on the virtue of ignoring minorities, or the evil of not ignoring them, but instead aims at denying that minorities were disproportionately involved.
In accepting the validity of discussing disproportion such an argument is a small concession to the truth, and possibly even made in good faith, but the net result is the same: it is an attempt to defuse and deflect attribution of blame away from where it rightfully belongs. When "the Establishment" wishes to do favors for minorities there is little hesitation not only to fudge the numbers in whatever way is required to produce disproportions that need correcting, but also to blame those disproportions, sometimes explicitly, sometimes by implication, on the machinations of Whites who are ostensibly disporportionately "racist".
In the case of Sailer's would-be debunker, if the argument that blacks and latinos were not disproportionately involved in housing bubble foreclosures is correct, then by implication Whites and/or asians must have been. Sailer and his commenters have already provided plenty of evidence countering this debunking, and at any rate it seems a moot point. Under the leadership of Carter, Clinton, and Bush the government stated its belief that blacks and (later) latinos were disproportionately suffering injustice and explicitly sought to right that wrong by applying new, discriminatory standards. Those are the facts.
Sailer's point, which several of his commenters have pointed out to his you-just-want-to-blame-brown-people critics, is not that the "NAMs" conspired to enrich themselves. The point is that intelligent non-"NAMs" in positions of authority consciously chose to pander to "NAMs" and pursue related fiscal policies that on their face would seem highly unintelligent because the macroeconomic consequences are turning out, as some predicted, to be incredibly bad.
This begs the question: why assume these otherwise supra-intelligent people in government and finance were behaving stupidly? Obviously some people got wealthy in the feeding frenzy leading up to the collapse. Some are now getting wealthy shorting and speculating during the collapse. Still more stand to get wealthy by securing taxpayer subsidies for themselves. There are plenty of people who simply do not care how much the macroeconomy suffers as long as their microeconomy gains.
Indeed Sailer and many of his commenters don't really seem to assume "the Establishment" is stupid. They insinuate that the negative results of the malfeasence were mostly unintentional and attribute the blame in part to short-sighted greed and in part to the hopeless naivete of "whiter people" – i.e. liberal, politically correct "whites".
For me this also is only a partial and thus unacceptable concession to the truth. The truth is there is another minority embroiled in this scandal. A minority whose participation nobody seems to want to note. I posted the following comment to The Diversity Recession: A debunking, but it did not make it past moderation:
As long as we're examining disproportions of minorities, what about the disproportion of jews who:

A) argue any disproportion perceived as harmful to a minority is caused by White racism (described variously as redlining, institutional racism, White privilege)

B) "innovated" ways around regulation and created new forms of leverage built on the loosened lending resulting largely from A (described variously as mortgage-backed securities, credit default swaps, collateralized debt obligation)

C) advocate taxpayer-funded subsidies for private enterprises (described variously as loans, buyouts, bailouts)

D) enriched themselves via A, B, or C

E) are in positions of authority and oversight, and should now be seeking to ferret out and punish wrongdoing rather than what they are doing, which is trying to find some way, any way to provide more C

I have a theory that explains why the disproportionate involvement of the jewish minority goes even less frequently mentioned than the disproportionate involvement of either blacks or latinos. It has to do with the phrase "anti-semitism".

First, obviously, anyone who would mention the jewish minority in such a negative light can expect it to be denounced as "anti-semitism" (refer to item A). Second, but more important, this same defensive tendency means that if even a relatively small number of the jewish minority perceived that the effects of either the housing bubble or the bailout were bad for themselves or jews in general (disproportionately or not) then they would have already blamed either situation on "anti-semitism".

My theory is that the general jewish perception is that they have participated and benefited disproportionately. But most pundits, even the non-jewish ones who realize this and are un-PC enough to attribute blame to other minorities, dare not even mention jewish involvement for fear of the consequences of criticizing the most powerful and favored minority of all.

Perhaps someone here would do those of us in the White soon-to-be-minority who have been disproportionately defrauded the favor of trying to debunk this theory.
To support my assertion of jewish disproportions I direct the reader to look into the matter for themselves. This would involve familiarizing yourself with the concept of disproportion, jewish population statistics, and the rather laborious process of finding and reading wikipedia and NNDB biographical entries of the principals involved. The most common objections are likely to be based on either innumeracy or an inability to discriminate.
These obstacles should not impede Sailer or his disproportionately intelligent commenters. They have already expended great energy researching and arguing statistics concerning "NAM" disproportions. News From The West has started the task, but it's only the very tip of the jewish-disproportion iceberg. If jews are not disproportionately benefiting, then why haven't they been complaining about disproportionately suffering? It's fairly obvious that jews comprise more than 3% of the reality-twisting race hustlers, government officials who legislated that hustle, financiers who built the house of cards on top of it, economists who validated it, bureacrats and advisors negotiating a "fix" for it, and political and market pundits whose words and voices are right now so overwhelmingly shilling in favor of that fix. Are we to believe that jews enjoyed precisely 3% of the loosened lending largesse and 3% of the financial wizardry profits, and stand to receive only 3% of the bailout money and pay only 3% of the taxes that will fund it?
Hypothetically, if a disproportion of blacks and latinos in "the Establishment" had arranged to dole taxpayer money out to a disproportion of black and latino borrowers and then reward disproportionately black and latino financiers for "failing" because of those policies, then I trust intelligent and honest people would notice and discuss it as the ethnically motivated scandal it would be. Is the fact that the actual circumstances involve a jewish minority indirectly disproportionately enriching themselves by first lobbying for and then leveraging the disproportionate enrichment of blacks and latinos really so much harder to understand or accept?
Come now, what's constraining this discussion of minorities and disproportions?