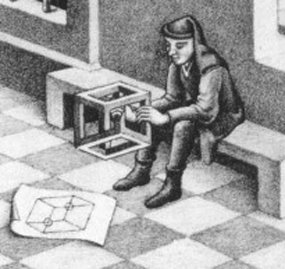 During this past month has Lawrence Auster has expressed a considerable shift in rhetoric, fundamentally altering his depiction of "liberalism" by adopting, without explanation, ideas he had previously ignored, dismissed, or denounced.
In First thoughts on the PWC conference, posted on 8 Feb 2009, we see Auster was giving speeches "meticulously describing" non-discrimination and writing about "suicidal white guilt that results from ignorance of race differences".
In What is good discrimination?, posted on 24 Feb 2009, Auster wrote:
We need to distinguish between necessary/proper/good discrimination and unnecessary/improper/bad discrimination. This is something that liberalism never does, because liberalism considers all discrimination to be bad; moreover, it considers every type of discrimination to be equally bad.
At Oz Conservative, around 17 Feb 2009, something had changed. Suddenly Sailer's "competition between whiter people", which Auster had previously judged useless, was transformed into war and became his own idea. Auster wrote:
The signs are gathering that the Western societies are heading into an age of civil wars. Not between white and nonwhite, not between Christian and Muslim, but between liberal whites and non-liberal whites. That's shaping up as the major divide of our time.
Next he transformed "suicidal white guilt" into "murder". In The cause of the white race will not go away, posted on 5 Mar 2009, Auster wrote:
when I consider today's systematic campaign, organized and backed by all the ruling powers of society, to put down, demonize, disempower, and marginalize the white race, I think it is shaping up as the greatest crime in the history of mankind
Today, 10 Mar 2009, Auster posts The supposedly race-blind liberal media defines a "true American", finally realizing (or finally admitting) that non-discrimination isn't at all what "liberalism" is about. He writes:
Liberalism is not about making race unimportant. Liberalism is about elevating nonwhites, particularly blacks, over whites, and about turning whites into non-persons. Liberalism is pure racism under the guise of anti-racism. What "anti-racism" really means is simply anti-whiteness.
It is extraordinary watching Auster break so much new ground so quickly. Where on earth is he getting these insane ideas?
Here are three more major related pieces he has yet to cough up:
Note that "liberalism" does not turn jews into non-persons. Quite the contrary, both jews and "liberalism" sees jews as non-White and elevates them over everyone else, including blacks.
Note that "liberalism" has become more anti-White at the same time and in the same proportion as jewish influence over Western sociopolitical thought has increased.
Note that even in his own shifty estimation all of the above is "anti-semitism", move to israel to find himself and repent his sins, blog exclusively in hebrew from this point on, and never again try to command "the majority" (to which he is alien) what to say or do.