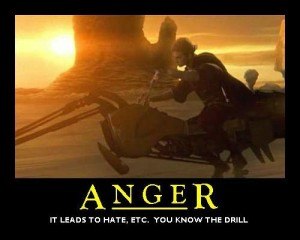 In The idiocy of Kevin MacDonald Auster takes offense at MacDonald's statement:
the racial Zionist movement that dominates the politics of Israel today
Auster is so angered by this that he attacks MacDonald personally. The problem, beyond this childish tantrum, is that MacDonald, in terms of Western norms, is entirely correct. Read for example Weston's analysis in The Israeli Election. Auster, who willfully ignores the disparity between what is considered "racism" in the West and normal in israel, can't help but list "well-known facts" that indicate only one thing: that racial zionism (Jabotinskyism) does not dominate israel as completely as he would like.
In throwing his tantrum Auster at least brings attention to some excellent writing of MacDonald's, including his recent post at VDare Memories Of Madison—My Life In The New Left, and his December 2008 TOO essay Ben Stein's Expelled: Was Darwinism a Necessary Condition for the Holocaust? where he provides some idea how far today's racial zionism goes beyond what is considered acceptable for today's White Westerners.
Auster here demonstrates two common tactics of pro-jewish argument: 1) throw nasty, personal insults at someone who says something you don't like, and 2) answer a complaint about some jewish disparity by claiming jews aren't powerful enough.
Tactic 2 is related to a tactic even more frequently used in similar circumstances: 3) answer a complaint about some jewish disparity by claiming that the complainer is insanely suggesting jewish power is absolute. In both cases examples are usually offered to demonstrate that jews aren't doing everything they could to further their own interests, or are doing something that harms themselves.
What these tactics seek to avoid is any acknowledgement that the disparity in question is real, and that that in itself is harm and injustice enough to those of us who aren't jews.
For other recent examples of these tactics see Melanie Phillips' Obama prepares to throw Israel to the Wolves, or the comments made by Anonymous to Whose Country is This Anyway?
What makes this phenomena especially annoying is that jews are, as a group, incredibly sensitive to disparities everywhere around them concerning the rights, wealth, and power of everyone, including themselves, at least when they feel victimized. However, when asked to face disparities that reflect negatively on themselves they abruptly become deaf, dumb, blind, and exhibit ZERO intellectual honesty. What's more, they treat anyone who presses a complaint against them as a mortal enemy. It seems to me a good example of projection.
At this point some philo-semite inevitably shows up to say, "yeah, but that's perfectly understandable because <insert sob story here>, and after all we're allies!" To which I say, no. The intellectually and morally bankrupt tactics described above are not only alien and inscrutable to White Western minds. They are indefensible. Two wrongs don't make a right. These tactics don't reflect the attitude of an ally. They reflect at best a self-aware and self-absorbed Other, and at worst a mortal enemy. In either case we are not obligated, intellectually or morally, to tolerate these tactics or the people using them.