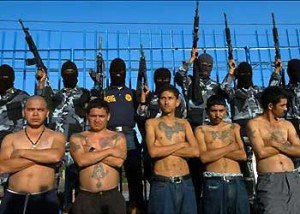 Send California inmates to Mexico, says Schwarzenegger – Yahoo! News, Jan 25:
"I think that we can do so much better in the prison system alone if we can go and take, inmates for instance, the 20,000 inmates that are illegal immigrants that are here and get them to Mexico," Schwarzenegger said.

"Think about it — if California gives Mexico the money. Not 'Hey, you take care of them, these are your citizens'. No. Not at all.

"We pay them to build the prison down in Mexico. And then we have those undocumented immigrants down there in prison. It would half the costs to build the prison and run the prison. We could save a billion dollars right there that could go into higher education."
California has some of the most overcrowded prisons in the United States, with an estimated 170,000 inmates housed in facilities designed for 100,000 people, according to 2007 figures.
Yes, think about it. The cost of the alien invasion never came up during the budget crisis just a few months ago, and here we're getting just a small glimpse of it.
What Schwarzenegger admits is that about 12% of the prisoners in California are known to be illegal alien mexicans who cost the state some $2B per year. This does not account for the cost of criminal aliens who aren't here illegally or aren't mexican. It also doesn't account for the cost to apprehend and prosecute these aliens, nor the costs to their many victims in human and financial terms.
California has been overrun by non-White aliens. Now it's bankrupt. And the other most populated, most invaded states – Texas, Florida, New York – are following California's lead. There is no clearer example than this that our government is corrupt and illegitimate. In any other time or place a governor worthy of the title would indeed say, "Hey, you take care of them, these are your citizens", and he would have said it while sending them home, before they had a chance to do us any harm.