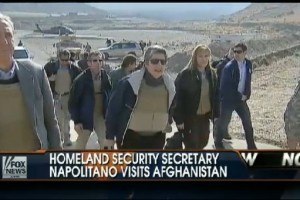 Napolitano Visit Aimed at Beefing Up Afghan Border Security, Customs:
KABUL, Afghanistan — During an unannounced New Year's Eve visit to Afghanistan, Homeland Security Secretary Janet Napolitano traveled to the country's mountainous border region near Pakistan to see first-hand her department's efforts in the war effort there.

"Seeing is worth a thousand words," Napolitano said after the tour, to which Fox News was granted exclusive access. "This all involves safety and security in this part of the world. And that is something that has direct connection as well to the United States."
Direct connection to the United States?
What I'm seeing is a regime engaging in Orwellian doubletalk, crushing us with debt and sending our soldiers to die on the other side of the world defending other people's borders while it obstructs our attempts to beef up safety and security in our own part of the world.
The regime could hardly demonstrate its illegitimacy any more clearly.