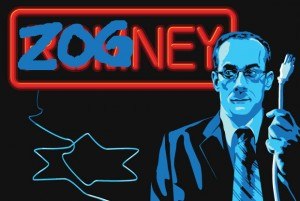 How Dan Senor became the GOP candidate's key emissary to Israel's intelligentsia and the Washington policy scene
Tablet Magazine is a jewish organ, and their article is a vetting of sorts, which in this context means a review of Senor's history of working with other jews in pursuit of the best interests of jews. For the rest of us the article serves as a window into the workings of the jewish/judaized ruling class, both in Israel and the United States.
To some, Senor remains best known as the spokesman for the Coalition Provisional Authority, a role that made him a regular television fixture in the immediate aftermath of the 2003 Iraq invasion. In the years since, he's reinvented himself as a cable news commentator and Israel advocate and has simultaneously amassed his own fortune working on Wall Street. He is, even among people who vehemently disagree with his politics, a popular guy who moves with equal ease in New York and Washington. He arrived in the governor's camp with his own celebrity, and, in a sense, he offers the socially awkward candidate the thing his campaign most craves: an easy ability to make people like him. More importantly, Senor has been a vital emissary over the past six years for Romney not just to the Israelis and the American Jewish community, but to a Republican foreign-policy establishment that, even today, remains somewhat alien territory.
Senor arrived at his current role by way of an itinerant and mostly accidental career that has afforded him access to a wide range of very powerful, very famous, and very rich people. As an ambitious college intern on the Hill, he caught the attention of William Kristol, the editor-in-chief of the Weekly Standard, who gave him entree into the neoconservative circle surrounding George W. Bush. Senor eventually became the face of the Bush Administration's efforts in Iraq, both during his time in Baghdad and later as a television pundit; while he was in Baghdad, he met his future wife, Campbell Brown, then a reporter for NBC. In between he went to Harvard Business School, worked for the Carlyle Group, and started a private-equity firm with his classmate and friend Chris Heinz, stepson of former Democratic presidential candidate Sen. John Kerry.

But his greatest success came in 2009, with the publication of Start-Up Nation, a slim blue-and-white volume he wrote with his brother-in-law, the Israeli newspaper columnist Saul Singer. Since its release in 2009, at the depths of the financial crisis, the book has become required reading for the entire Israeli government and for much of the American Jewish community. (The Palestinian Prime Minister Salam Fayyad also keeps a copy on his desk.) The title alone has become shorthand for the modern, techno-centric aspects of Israel, as distinct from the Israeli-Palestinian conflict. "It showed that every conversation about Israel doesn't have to be about the settlements," Senor told me when he and I met recently for dinner at Solo, a kosher restaurant in Manhattan.

In 2010, Senor was floated by Republicans, including Rudy Giuliani, as a possible Senate candidate in New York, but he decided not to enter the race, which would have pitted him against popular Democratic Sen. Kirsten Gillibrand. He now works for Paul Singer, the billionaire hedge-fund manager who is among Romney's most prominent Wall Street backers. (Singer is no relation to Senor's brother-in-law.) Senor is also a regular on Morning Joe, where he has become the show's go-to conservative guest. To critics on both the left and the right, he represents the worst of the Bush era—the prioritization of loyalty and ideology over experience and expertise. "He was on MSNBC pushing for more robust intervention in Syria, and he was going up against a general," said one longtime Republican operative, who asked not to be identified. "I was saying to myself, This is a guy where, if you look at him, no one's ever going to confuse him with anyone who ever put on a uniform."

But Senor's varied background makes him a perfect interlocutor for Romney in clubby think-tank and fundraising circles. "There are a lot of smart guys in Washington who do some policy, some politics, some fundraising," Kristol said. "But he certainly knows more than a lot of those guys, or knows better how it works." In September 2009, after Romney's first run for the Republican nomination, he joined Senor onstage at a conference hosted by the Foreign Policy Initiative, an organization Senor launched with Kristol and Robert Kagan. Romney made passing reference to an op-ed in the Wall Street Journal, prompting Senor to note it had been written by Bret Stephens, a columnist well known in conservative circles. "Brad Stephens' piece?" Romney asked, blankly. "Bret Stephens," Senor corrected. "Bret Stephens," Romney repeated, and looked out at the audience. "Sorry, Bret."

But, in a year when Israel has emerged as a central foreign-policy litmus test, Senor also brings an unusual advantage to the governor's campaign: his close relationships with a small, influential group of American expats clustered in Jerusalem's German Colony who operate at the highest levels of Israeli public life. Much has been made of Romney's pre-political acquaintance with Netanyahu, dating to when they were both young men working for the Boston Consulting Group. But Senor, who travels to Israel several times a year, has ties to Jerusalem's elite that are unusually personal and that are magnified by the uniquely Anglo-inflected nature of Netanyahu's current government.
For Tablet's jewish audience, the Republican foreign-policy establishment is "alien territory", in contrast to Israel, which is more like home.