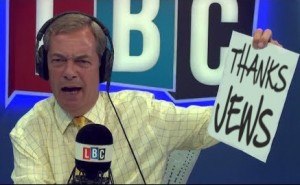 Nigel Farage: 'Jewish lobby' has disproportionate power in the US.
Farage is about to get the Hagel treatment. The jews, who have tirelessly organized and lobbied to codify the conflatation of jews and Israel, are screeching that Farage has…conflated jews and Israel while noticing they organize and lobby. Under jew rule speaking about jew power is a criminal offense.
Like any good kikeservative, Farage will likely attempt to atone by humiliating himself. This would involve loudly professing that he is not a "racist", has always especially loved the jews, their lobbying, and their state, maybe while visiting one or more of the many prominent places of jew-worship and sliding a pile of shekels their way. The jews will then undoubtedly return to demonizing him, and he will return to acting as if they don't exist except when told to speak or perform some service for them. As usual.