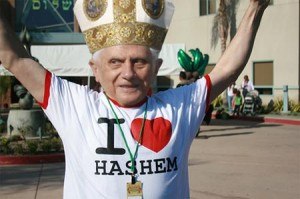 Dennis Mangan asks, Is the Pope Catholic?, and notes:
Some conservatives and Catholics seem to believe that non-Catholics shouldn't criticize the Pope and his opinions.
I made several comments there before realizing it was more appropriate to recast them, and some further comments, into a post here.
The trick is to frame your critique in moral terms, taking for granted that the sensibilities and interests of your group trump all others. It also helps if the media is in your pocket and takes your side.

Revised Catholic prayer troubles some rabbis, Sun Journal, Feb 2008.

Pope under fire for Yad Vashem speech, Jerusalem Post, May 2009.

US Jewish leaders denounce Catholic sermon, The Guardian, Apr 2010.

Jews Worried By Vatican Gesture To Traditionalists, Huffington Post, Sep 2011.

Anti-Semite is among papal candidates, MiamiHerald.com, Feb 2013.

Why the new pope matters to Jews, Fox News, March 2013.

Jews will be even less of a priority for the next Pope, Haaretz Daily Newspaper, March 2013.

You should never be put off from criticizing another group just because you don't belong. But remember you can always join a more universalist group to pursue your more particularist agenda from within.

The role of Jewish converts to Catholicism in changing traditional Catholic teachings on Jews, The Occidental Observer.
I have spoken before about the important distinction between universalism versus particularism (Morals, Morality and Moralizing and Universalism and Particularism).
One particularly popular jewish trope is that the jews have no pope. Like most jewish tropes about jews, this is a distortion of reality. The relationship between jews and popes is fascinating, and telling, specifically because the pope supposedly isn't a jew, because of the pretense that jewishness is entirely about religion (ideology) not peoplehood (biology), and because the usual jewish rhetoric about mutual respect and tolerance is, in practice, entirely one-sided.
First of all, the fact that the Catholic pope isn't a jew does not keep jews, big or small, from criticizing him, or other religious leaders for that matter. The underlying presumption is that even non-jews can and should be doing more to serve the best interests of jews. Second, there is organized jewry, a vast collective network that is in many ways more powerful, and more likely to use that power to promote particularist ends, than organized Christianity is. More broadly, there are thousands of jews who act, with and without the consent of organized jewry, as if they were superpopes, in the sense that they advocate more tirelessly and vociferously for the best interests of their group than any recent pope does for his.
Consider, for example, Alan Dershowitz, the author of the letter to the editor in the Miami Herald linked above. Dershowitz is usually described as a lawyer or professor and claims he isn't particularly religious. Yet his passion and efforts in favor of his own people (as a people, not as a religion) is so strong that, like thousands of other jews, he feels morally capable, entitled even, to publicly pass judgment on Christians and their leaders. In the minds of jews like Dershowitz, no Christian or pope comes before, or even equates, to them or their group.
New pope, Jorge Mario Bergoglio of Argentina, has Jewish connections, JTA Jewish & Israel News.

A good pope, from the shamelessly particularist point of view of jews, should have "a personal connection to the Jewish people".
Note that JTA, aiming at a jewish audience, didn't pretend it was about a spiritual connection to the jewish faith.
This is just one jewish answer to the question, implicit in this case, "Will this new pope be good for the jews?" Right now many other jews are undoubtedly asking and answering this same question more or less explicitly. Two jews, three opinions about what the pope could do to better "connect with the jewish people".
Society of Jesus, Wikipedia:

Although in the first 30 years of the existence of the Society of Jesus there were many Jesuit conversos (Catholic-convert Jews),[50] an anti-converso faction led to the Decree de genere (1593) which proclaimed that either Jewish or Muslim ancestry, no matter how distant, was an insurmountable impediment for admission to the Society of Jesus.[51] The 16th-century Decree de genere remained in exclusive force until the 20th century, when it was repealed in 1946.[52]

The Jesuits, Jew or Not Jew:

The Jesuits, a Catholic order that was established in 1534, emphasized education, and tried to draw the brightest academics. (You know what that means: Jews!) They welcomed conversos with open arms, and, as a result, many prominent early Jesuits had Jewish heritage. The list includes Juan Alfonso de Polanco, the secretary and ghostwriter of the order's founder, as well as the second Superior General, Diego Lainez.
"Conversion" didn't used to fool Christians into thinking that jews stopped being jews. It still doesn't fool the editors at Jew or Not Jew.
I think it's safe to say that the influence of crypto-jews/conversos/marranos, whether on Jesuits or Christianity as a whole, has been greater than most contemporary Christians are aware of. The Occidental Observer article linked above makes a good case that the relatively recent shift in popular perception of morality, specifically in favor of jews, is both evidence of and a product of jewish influence.
The image source is GreenKeit hits the Vatican?, Jewlicious THE Jewish Blog. Paranoia disguised as mockery, or vice versa, this is yet another perfectly typical example of jewish attitudes regarding popes and Christians. HaShem is a reminder how distinct the jewish and Catholic conceptions of god are.