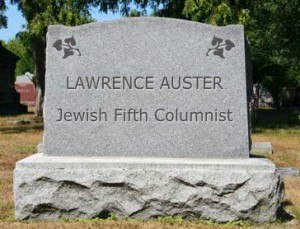 I shared my thoughts about Auster's legacy in Auster's Personal Announcement, when he first announced his illness in August 2011, and then again two weeks ago in Assessing Auster. Today one of Auster's "vile sycophants", Laura Wood, announced his death.
LAWRENCE AUSTER: JANUARY 26, 1949 – MARCH 29, 2013:
But the blogging career that stands out on the Internet and in the history of American letters as a tour de force of philosophical and cultural insight is over. Mr. Auster entered a state of sedated and sometimes pained sleep the next day, after a night of agony. He spoke no more than a few words during the next two days and died peacefully this morning after about ten hours of unusually quiet and mostly undisturbed rest.

Only extreme incapacitation could have brought that career to a close. For many of us, it was a marvel, a form of essential daily food. No man gave more to his readers. No writer responded more energetically to the people who took in his words and either approved or rejected them. No thinker, except perhaps Plato, jousted more ably with his students or left such an elegant and finished record of philosophical conflict and resolution. He was philosopher, journalist, guru and cultural psychoanalyst in one. And no writer on culture and politics had sounder judgment about the world around us, or more brilliant observations.

The relationship between Mr. Auster and the hundreds of often-anonymous correspondents who wrote to him over the years was like that between a boxing coach and his fighters. He trained his followers in the art of intellectual combat — and the price was a staggering workload as he edited the debates that have appeared here over the years. He paid tireless tribute to the fight for truth. But, as he insisted, he wasn't a hero. He was just doing what came naturally. He was doing what he had to do.

Sadly, as of today, View from the Right, except for an entry about his funeral and possibly more on his death, will become inactive. He wanted it that way. VFR could not continue beyond Mr. Auster's death because it is the creation of an utterly unique personality and mind.

The site will, however, remain online permanently, as long as the Internet exists. There are also plans to collect his writings, both those found here and those unpublished, in book form. At the time of his final siege of illness, he was working hard to make that happen.

His work will continue to be read and appreciated. The number of "vile sycophants" will grow. Falsehoods will for many years more be overturned by those who have come in contact, directly or indirectly, with Mr. Auster. I am certain of that.
It means all the more for a friend and supporter like Wood to so clearly note Auster's guru-like, psychoanalyst-like traits, as well as the sycophancy he attracted and cultivated. These are recurring patterns in jewish intellectual movements which Auster's nemesis Kevin MacDonald has identified and discussed.
The "movement" around Auster will dissolve without its Energizer Bunny guru. True to his jewish heritage, Auster was a totalitarian bolshevist control freak. This was evident in the meticulous editing and pasting required to fit each individual comment from private email into the public, micromanaged "debate" on his blog. It was also evident in the way he would regularly inform other bloggers which commenters or topics were anathema.
The essence of Auster's project, his "View from the Right", was to inform others how to see the world, the "right" way to think about it. His two most frequent themes were "anti-semitism" and "liberalism" – with the underlying connection between these, and most of his other topics, being his and his sycophants' overriding concern for the best interests of the jews.
Auster attempted, in a way, to do to White racialism what Norman Podhoretz and his Trotskyite "liberal" jew inner circle did to American conservativism – replacing White priorities with jewish priorities. Auster wanted "whites" to think about race to the extent it entailed criticism of or even separation from muslims, blacks, or mestizos. But at the prospect of Whites regarding jews likewise Auster's usual pretense at principle and reason and decorum suddenly reverted to the unhinged pathologization and demonization so perfectly typical of his tribe.
Today the White race lost a self-professed jewish fifth columnist. Hallelujah!