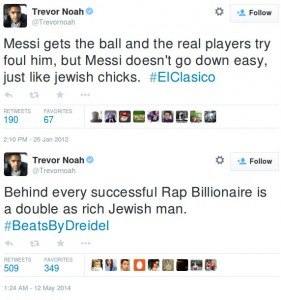 On March 30th Trevor Noah was named as Jon Liebowitz's replacement as host of The Daily Show. Jews immediately began swarming and screeching in protest.
By the next day the editorial staff at The Hollywood Reporter announced, Trevor Noah Criticized as Anti-Semitic Due to Twitter History, and laid out a handful of old twits as pretext for the screeching.
The "jokes" in Noah's twits come across as ridiculously mild, especially in comparison to the kind of toxic mockery regularly aimed at Whites, whether on The Daily Show or in the broader corporate jewsmedia. In fact, though THR only vaguely identifies "the internet" as the source of the complaining about Noah, it is the broader corporate jewsmedia which has led and amplified the controversy from the get-go.
On the 30th, the day the Noah announcement was made, David Steinberg at the PJ Tatler wrote Trevor Noah and His Anti-Semitic Tweets. That same day Jamie Weinstein at The Daily Caller asked, Is New 'Daily Show' Host Trevor Noah Anti-Israel? The main point in both cases was to simply echo and add their screech to a Jewish Telegraphic Agency article.
The next day, the 31st, Dave Itzkoff at the Jew York Times cited Weinstein's article in Comedy Central Stands Behind Trevor Noah, New 'Daily Show' Host, Amid Scrutiny. Itzkoff also quoted Abraham Foxman, national director of the jews' Anti-Defamation League, who acknowledged that comedians "poke fun at stereotypes" and "push the envelope of political correctness" but urged Noah not to target "jews, other minorities and women". The logical implication of Foxman's stereotypically jewy double-talk: White men are the only legitimate, non-offensive target.
Also on the 31st Alyssa Rosenberg at the Washington Post wrote How Trevor Noah can save his tenure at 'The Daily Show' before it starts. Rosenberg cited Itzkoff's article and described the screeching as stemming from "material that targeted jewish women, heavier women, jews and Israel". Rosenberg's stereotypical jewish advice was that Noah should apologize to and surround himself with advisors like herself.
Also on the 31st Spencer Kornhaber and James Hamblin at The Atlantic wrote Trevor Noah Meets the Outrage Internet. Queer jew Kornhaber explains his outrage:
[a Noah twit] in May of 2014 indulges some not-s0-helpful thoughts about Jews controlling the world, but actually is almost a punchline, at least. The older stuff is just such a fascinating glimpse at what makes bad humor bad—the idea that you're doing something exciting by saying something offensive, when really you're just outing yourself as a deeply unoriginal thinker who has a tragically commonplace obsession with Jews. Or you're outing yourself as the stereotype of a frat-bro when it comes to attitudes toward women.
Like Rosenberg, Kornhaber tells Noah what he should do:
He should explain the thinking behind some of those jokes and whether he still holds to that thinking. He should probably offer an apology.
Also on the 31st came a broader glop of jewcentricity from Phoebe Maltz Bovy at The Jew Republic: Trevor Noah's Tweets Show Anti-Jewish Humor No Longer Acceptable. Bovy noted that Noah is a quarter-jew and pointed out the significance of this to jews, implying that most of the jews who were screeching must not have realized.
Perhaps the most hysterical reaction came via Blabbermouth reporting on an interview on Voice of Israel. Disturbed's David Draiman Slams New 'Daily Show' Host Trevor Noah Over Twitter Jokes About Jews:
"You know, I'd love to have this mamzer [a Hebrew word referring to a person born of certain forbidden relationships] go ahead and call me on to his show. If he wants to go ahead and be a funny guy, go ahead. Have me on your show. Go ahead and start spewing anti-Semitic or Jewish jokes while I'm on your show. Somebody's gonna end up in the hospital and somebody's gonna end up in jail, and I'll give you three guesses who that's going to be."

Asked how it could be that a public figure like Noah could "spout anti-Semitic rhetoric" to the world, Draiman responded: "I think that anti-Semitism has become fashionable. I think it's become acceptable in a lot of people's eyes."

He continued: "The media continues to spin the State of Israel and Jews as war-mongering, evil people, which we are not. I think that it's become something that, where people used to quickly rise to condemn it, they more and more are being very, very lackadaisical about it, and it's becoming something that isn't offensive to the mass public, which is very, very disturbing.
By April 1st it seemed the jews making the decisions at Comedy Central were not planning to cave in to the screeching jews, and the tone of some screeching changed. The Jew York Times ran an op-ed by Guy Branum, another queer jew, titled Trevor Noah Learns Twitter Just Can't Take a Joke. Beyond the jew-washing title Branum played down Noah's "handful of mediocre jokes with hack premises about women, jews and fat people" and shifted blame instead to the "mostly white, straight, male power dynamic within the comedy world". Branum's conclusion:
Mr. Noah has gotten a clear message about cheap jokes at the expense of marginalized groups, but so far it doesn't seem as if that response will cost him the job. And it shouldn't. Because, in the process of a comedian's learning how to say the right thing, he needs the chance to say the wrong thing.
Not to mention, of course, that Noah also needs to learn to hire some marginalized fat queer jews as advisors.
For a week or so the screeching shifted elsewhere. On April 8th The Washington Post published Why we have to stop telling Jewish jokes by Michelle Van Loon, a jewess who describes herself as "someone who moves in Gentile church circles" telling Christian women what to think and do.
Loon cited an American Jewish Congress campaign intended to restart the swarming and screeching. President Jack Rosen asked, "How can one of the world's most admired Jewish comedians leave his legacy to a sexist anti-Semite?", and bluntly called on Liebowitz to rescind Trevor Noah's contract.
Loon also refers to another glop of jewy thinking Phoebe Maltz Bovy wrote just before the Noah Shoah began: Lena Dunham New Yorker Jew-Dog Joke Not Offensive, But Unfunny. There are differences between Loon and Bovy. But their premises and conclusions are the same.
When we consider the various jewsmedia screechers mentioned above – Steinberg, Weinstein, Itzkoff, Foxman, Rosenberg, Kornhaber, Draiman, Bovy, Loon – their common conceit is that because they are jews they regard themselves as the arbiters of what is or isn't offensive or funny, what is or isn't permissible for anyone and everyone else to say.