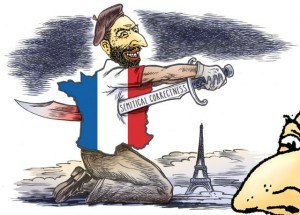 You've heard of the royal "we", here are two good examples of the jewy "we".
After Paris Attacks, Don't Close Doors to Refugees – Open Them, Jesse Berney, Rolling Stone:
When we see attacks like the horror in Paris, we should open our borders to a flood of refugees, not close them. We should shower those families with generosity. We should make sure they have jobs that fit their skills. We should educate their children. We should provide them health care and whatever social services they need.
In other words, "let's you and them mix", or, "let's you serve them".
A more familiar variant takes the form, "let's you and them fight". See, for example, French Jewish Council Calls for 'World War' Against 'Jihadist Fanaticism', Breitbart:
"Our country is bloodied by all those innocent lives cut short by the bullets of these new barbarians. The world war against the monstrosity of jihadist fanaticism must become the top priority of democratic nations," [CRIF] said.

"We must combat them tirelessly and without pity, until they are defeated," the group added.
The jewy "we", pluralis judaeis, is deployed by jewhadis, "left" and "right", not only to shamelessly lecture everyone else what they should think and do, but specifically to serve the interests of jews, whatever harm it will cause anyone else.