Podcast: Play in new window | Download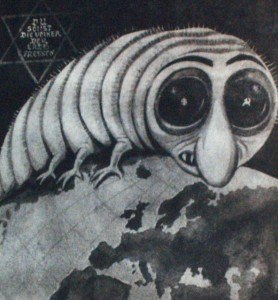 A week and a half ago I spoke with John Friend concerning various aspects of the jewish problem. His post on our conversation is here. Below are some additional links for context and reference.
The Jews – Who, What, Why and How sums up a comprehensive series of podcasts I did on the jewish problem. The Jewish Problem and "Anti-Semitism" addresses the importance of identity and point of view.
Kevin MacDonald's Jewish Involvement in Shaping American Immigration Policy, 1881-1965: A Historical Review.
Radio Nordfront interview with Professor Macdonald, Part 1 and Part 2.
My criticism of "White pathology" traces back to "White Pathology" on Saturday Afternoon with Carolyn, recorded in November 2013. My criticism of "pathological altruism" started with Pathology and Pathogen, Fear and Genocide, and Gaslighting, recorded in February of this year. The comments on those posts contain further clarification and some debate. Solipsism and Narcissism, recorded in June, summed up the argument and added a couple of new points.
Regarding Jared Taylor: Pathological Altruism | American Renaissance, Jews and American Renaissance | American Renaissance, Tan Staafl on Twitter: "This is why Taylor's "race realist" idea that jews are White is so pernicious. Whites are not extincting themselves. http://t.co/AueJUSyx6J", "The Jewish Question" – Jared Taylor Vs. Brit.
Here's a PDF of The Great Jewish Masque. This book came to my attention recently via a reading by The Editor who included his own insightful commentary.Start with Part 1 of 4.
My criticism of Wilmot Robertson's majority/minority terminology – pussyfooting around the jews, to put it in his own terms – is laid out in the comments here.
Contrasting Francis Parker Yockey's view of race in Imperium vis-a-vis what Adolf Hitler laid out 25 years earlier in Mein Kampf: Yockey on Culture and Race – Part 8, Part 9, and Part 11.
As John pointed out, the upshot of Pew Polls Jews is that the #1 "essential part of what being jewish means" to jews is "remembering the holocaust". In How Anti-Whiteness is at the Heart of Jewish Identity I point out that the jews have been "remembering" (and advertising to anyone who will listen) their woe-is-us self-image as blameless victims. What's so important about their "holocaust" narrative is that it explicitly paints Whites/Europeans as the collective victimizer/enemy.
My recent podcasts on cuckservatives and Trump: Calling Out the Cuckery and Treason is Trending (the associated image is a Rubin vase, named for "Danish" psychologist Edgar Rubin).