Podcast: Play in new window | Download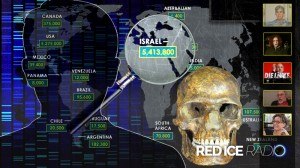 The second half of my conversation with Henrik, recorded on 21 September 2015. The first half was published in mid October.
In this half, before getting into the invasion and rape of Europe, the rise of Trump, and anti-Nordic hostility, we touched briefly on the discovery of Homo naledi, which was described in a NOVA episode titled Dawn of Humanity.
As I mentioned, The Ugly Nationalist Politics of Human Origins is an example of the legacy of Franz Boas, the jewing of race science, with contemporary Boasian storytellers like Jonathan Marks not only hijacking the objective authority of science to promote a reality-distorting anti-"racist" narrative, but relatively openly describing how and why.
What and who were our ancestors?

It might seem as if the answer to this question is simply a question of biology, but in his new book Tales of the Ex-Apes: How we think about human Evolution anthropologist Jonathan Marks argues that the story we tell about our origins, the study of our evolutionary tree, has cultural roots. Evolution isn't just a question of biology, he argues, it's also a question of mythology. Our scientific facts, he says, are the product of bioculture and biopolitics.
The study of who we are and where we came from is inherently political, even as science. Understanding what he means by this is best explained by way of example. Take, say, race. In the U.S. the 19th-century "American school" of physical anthropologists used racial features to hypothesize that there were separate origins for the races. As late as 1962, the evolutionary "fact" that the black race was 200,000 years less evolved than the white race was used to argue in favor of segregation.
Evolutionary biologists often explain the emergence of morality in terms of Darwinian imperatives about survival and breeding.
This is about who gets to partake in, and to tell, the authoritative scientific story of our origins. It's a lot more than biology.
There is much more to say about the semitically correct migrating/mixing/Out-of-Africa narrative and how it distorts science and morality. A recent, typical demonstration of the effect was provided when Bill Clinton preached his understanding of racial purity and mixing.