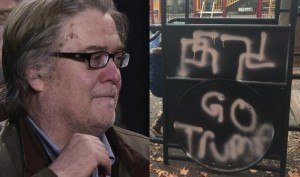 In the wake of the selection of Donald Trump on the 8th of November a fresh wave of malformed swastikas began showing up in various jewy haunts across America. Despite the lame nature of these so-called "hate crimes", and the long history of fakery, each new incident is soberly and earnestly reported by the jewsmedia not only as if it were an example of real hate but as the most disturbing crime ever committed. After each furtive act comes another very public act, the theatre echoing with cries for more money and more laws to combat "hate". And even when some later report reveals yet another hoax there is no connecting of dots, no recognition of the larger pattern. Thus by very deliberate acts of both commission and ommission the jewsmedia creates and sustains this "hate" hoax culture.
Of course many people see through this charade, and when jewsmedia forums permit comment many critics do in fact speak out. On social media sites it is increasingly common to see these tall tales of "hate" not only called out but mercilessly derided. Alas, corporate social media is ultimately just another more insidious form of jewsmedia – owned, operated or otherwise ultimately marching to the tune called by jews. Critics are squelched with a circular argument: opposition to the jewsmedia narrative is by definition "hate", especially if you notice the jews. Bad goy. Shut it down.
Amidst the swastikas comes an even grander hoax, The Bannonocaust, a jewsmedia construct through and through. Before social media platforms were widely used the journalist cabal used to strategize and coordinate via email. Nowadays they conspire more broadly and openly on Facebook and Twitter. On the 13th, when Trump tapped Steve Bannon as his chief strategist, the yids who operate the jewsmedia immediately flipped their lids. Before any articles had even appeared prominent jewsmedia figures were screeching anti-White invective into their collective Twitter echo chamber, decrying Bannon's supposed "anti-semtism" and advising each other to gird for battle.
Jamil Smith: "Steve Bannon, an anti-Semite whose website is a hub for white nationalism, will be the @WhiteHouse chief strategist. We are in trouble." Charles P. Pierce: "Let us be clear. The hiring of Steve Bannon as a WH policy adviser is exactly the same as hiring David Duke. Please don't normalize this." Jonathan Alter: "Bannon's bigotry must be front and center in all coverage of him for as long as he has power." David Corn: "Hey, media, if the words "white supremacist" or "racist" are not in the lede of your stories in Stephen Bannon, you're doing it wrong."
This is how the jewsmedia narrative on Bannon was constructed. Over the course of the next week it oozed out of various outlets in longer forms. On the 14th, David Rothkopf's Trump Appointments Send an Ominous Signal appeared at Foreign Policy. In it Rothkopf laid out the jew versus White nature of the conflict fairly clearly. A similar, prescient article by Sarah Posner and printed by Mother Jones in late August, How Donald Trump's New Campaign Chief Created an Online Haven for White Nationalists, was also widely cited and recirculated as an explainer.
Much of the broader print media and television coverage was less explicit. Generally the jewish source of the hostility toward Whites has been more muted, the accusations against Bannon reduced to unspecified "bigotry" and "racism". Jay Reeves' article, AP EXPLAINS: Election brings white nationalism to forefront, is typical in this regard, presenting Whites as the source of the trouble:
White nationalists often support the idea that white people are under attack in the U.S., and need protection from the growth of minority and immigrant groups. Adherents sometimes use the hashtag #whitegenocide on social media to promote their belief that the future of the white race is in peril. They see diversity as a threat to fight, not a goal to embrace.
In spite of such whitewashing, the fundamentally jewy nature of the Bannon controversy is made obvious in other ways. Self-righteously jewish screeching to fire Bannon has manifested quite literally. A representative of the bagel republic "found" yet another swastika, and the jewsmedia literally helped attach blame for the "hate crime" to Bannon. On the 18th, the "conservative" wing of organized jewry officially and collectively condemned Bannon's appointment.
As with Trump, Bannon has long surrounded himself with jews and supported zionism – a jew-specific form of parasitic nationalism. Several jews have come forward to vouch that Bannon is a good goy, but none makes as compelling a case for it as Bannon himself. The Wall Street Journal ran an article quoting their interview with Bannon on the 18th:
Here are a few things you've likely read about Steve Bannon this week: He's a white supremacist, a bigot and anti-Semite. He's a self-described Leninist who wants to "destroy the state." He's associated with the "alt-right," a movement that, according to the New York Times, delights in "harassing Jews, Muslims and other vulnerable groups by spewing shocking insults on social media."
At first Mr. Bannon insists that he has no interest in "wasting time" addressing the accusations against him. Yet he's soon ticking off the reasons they are "just nonsense."

Anti-Semitic? "Breitbart is the most pro-Israel site in the United States of America. I have Breitbart Jerusalem, which I have Aaron Klein run with about 10 reporters there. We've been leaders in stopping this BDS movement"—meaning boycott, divestment and sanctions—"in the United States; we're a leader in the reporting of young Jewish students being harassed on American campuses; we've been a leader on reporting on the terrible plight of the Jews in Europe." He adds that given his many Jewish partners and writers, "guys like Joel Pollak, these claims of anti-Semitism just aren't serious. It's a joke."

He blames the attacks on a lazy media, noting for instance that the "renegade Jew" line wasn't Breitbart's. Conservative activist David Horowitz (also Jewish) has taken responsibility for writing the headline himself, in a piece about Weekly Standard editor Bill Kristol.
What about the charge of white supremacism? "I'm an economic nationalist. I am an America first guy. And I have admired nationalist movements throughout the world, have said repeatedly strong nations make great neighbors. I've also said repeatedly that the ethno-nationalist movement, prominent in Europe, will change over time. I've never been a supporter of ethno-nationalism."
"Our definition of the alt-right is younger people who are anti-globalists, very nationalist, terribly anti-establishment."
But he says Breitbart is also a platform for "libertarians," Zionists, "the conservative gay community," "proponents of restrictions on gay marriage," "economic nationalism" and "populism" and "the anti-establishment." In other words, the site hosts many views. "We provide an outlet for 10 or 12 or 15 lines of thought—we set it up that way" and the alt-right is "a tiny part of that." Yes, he concedes, the alt-right has "some racial and anti-Semitic overtones." He makes clear he has zero tolerance for such views.
Even before Bannon spoke out Dylan Byers was begging the question, "What's the end-game of the anti-Bannon crusade?" What's the point of any jewy hoaxing and screeching? As with so much of their swastika drivel The Bannonocaust is nothing more than a hoax – an attempt by jews who already dominate the political discourse to mold public opinion, to influence the political agenda, to grab more public funds and government-backed privilege for themselves. It's not "nazis" doing this. It's the jews.