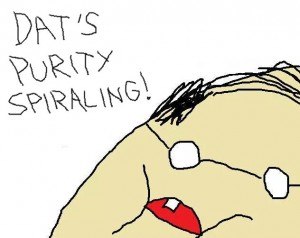 I spent hours yesterday reading about the doxxing of the main TRS hosts – the dox themselves, and comments from others about it. I've enjoyed listening to their shoot-the-shit Daily Shoah podcast, the future of which is now uncertain, as well as the political analysis on Fash the Nation, which has been shut down by its own hosts, presumably to deter their own doxxing.
Whether any of what they discussed was to your liking, I think it's fair to say that Whites talking to Whites about things that concern Whites is good for Whites. TRS not only did that, they inspired and facilitated many others to do so as well.
From what I can see, the initial doxxing – first Ghoul, then Bulbasaur, then Seventh Son – didn't reveal anything especially interesting. They are the ordinary White Americans they presented themselves as. Their doxxing was personally punitive, the main result being that anyone who wants to give them grief IRL will have an easier time doing so now.
It's not difficult to understand why so many of the few Whites who feel compelled to speak out choose to use a pseudonym. Those whose personal concerns prevail over racial concerns simply keep their mouths shut, and are far more numerous. Like White flight, this is as much a reflection of the utter wickedness of the current anti-White/pro-jew regime as it is an expression of collective White fear and demoralization.
Mike Enoch's doxxing is qualitatively different. First, because he has been the most pensive and eloquent voice at TRS, its hub, its guru. Without Enoch, TRS would not exist and probably will not continue. The more important difference is the jew wife thing.
A few Daily Stormer commenters argued about the apparent similarity to my situation. The main difference is that I disclosed it myself. I've never wanted to be popular, or a leader, but I do care about my race and want to speak the truth about its foremost pathogen, the jews. I'm sure there are many other people in my situation, more than even most jew-aware people realize. Many see their situation differently than I do. I'm not at all surprised some would try to speak some truths while compartmentalizing others.
The truth is that race-mixing is an existential threat to any race, including Whites. Race-mixing with jews is the worst because it helps jews infiltrate and manipulate Whites to think otherwise. As a result even many Whites who aren't race-mixing deal with such truths by denying them, by denying race exists, or that it matters. And among the Whites who don't deny that race matters many won't accept that jews are a racial, existential threat to Whites. The more Whites are forced to confront and overcome any form of this denial, the better.
The most important point that can be made about the jew wife thing is that it is a problem. It matters. It isn't irrational or immoral for Whites to despise and reject race-mixers, as the jews want us to believe. Quite the contrary, those who deny the problem, lie about it, or try to hush it up are only making it worse.