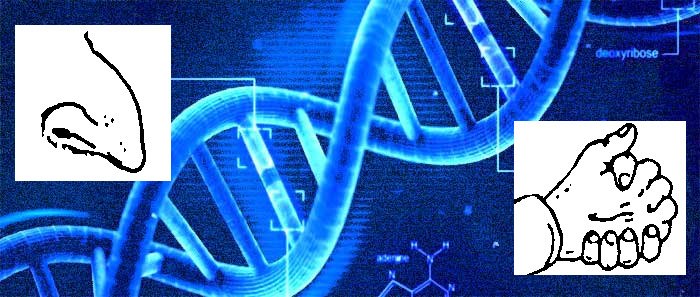 New article in The Jewlantic: DNA Reveals the Hidden Jewish Ancestry of Latin Americans. That was the original title. Revealing indeed. Now it reads: "The Genetic Legacy of the Spanish Inquisition". It wraps the latest revelations with the usual cover story, mischaracterizing an invasive species as passive victim:
As Spain simultaneously persecuted its Jews and expanded its colonies in the Americas, conversos secretly came over to the New World. Their legacy lives on in DNA.

. . .

In 1492, best known as the year Columbus sailed the ocean blue, Spain also decided to expel all practicing Jews from its kingdom. Jews who did not leave—and were not murdered—were forced to become Catholics. Along with those who converted during earlier pogroms, they became known as conversos. As Spain expanded its empire in the Americas, conversos made their way to the colonies too.
This is the usual jew-excusing narrative, intended to distract from the fact that the jews had colonized Spain, forcing themselves upon the Iberians in much the same way they have forced themselves upon Europeans in other times and places. This particular persecution narrative is dishonest not only because it paints the jews as powerless, but because it also falsely implies they were ultimately destroyed. The DNA tells another story, the legacy of jewing:
A new study examining the DNA of thousands of Latin Americans reveals the extent of their likely Sephardic Jewish ancestry, more widespread than previously thought and more pronounced than in people in Spain and Portugal today. "We were very surprised to find it was the case," says Juan-Camilo Chacón-Duque, a geneticist at the Natural History Museum in London who co-authored the paper.

This study is one of the most comprehensive genetic surveys of Latin Americans yet. The team also found a mix of indigenous American, European, sub-Saharan African, and East Asian ancestry in many people they sampled—a legacy of colonialism, the transatlantic slave trade, and more recent pulses of immigration from Asia. This is the history of Latin America, written in DNA.

. . .

Spain did not allow converts or their recent descendants to go to its colonies, so they traveled secretly under falsified documents.

. . .

Conversos who aspired to high offices in the Church or military often tried to fake their ancestry.

The genetic record now suggests that conversos—or people who shared ancestry with them—came to the Americas in disproportionate numbers.

. . .

Nearly a quarter of the Latin Americans shared 5 percent or more of their ancestry with people living in North Africa and the eastern Mediterranean, including self-identified Sephardic Jews. DNA alone cannot prove that conversos were the source of this ancestry, but it fits with the historical record. This pattern of widespread but low North African and eastern Mediterranean ancestry in the population suggests that its source is centuries old, putting the date around the early days of New Spain.

. . .

Geneticists have also noticed rare genetic diseases prevalent in Jews popping up in Latin America. "It's not just one disease. It's like, wow, this isn't a coincidence," says Harry Ostrer, a geneticist at Albert Einstein College of Medicine. In 2011, Ostrer and his colleagues decided to study two populations—in Ecuador and Colorado—with unusually high prevalence of two mutations often found in Jews. (One mutation was in the breast-cancer gene BRCA1, and the other caused a form of dwarfism called Laron syndrome.) And indeed, they found enriched Sephardic Jewish ancestry in the 53 people they tested.
Chechar BTFO. The jews themselves never forgot this legacy, they've always simply directed all the blame for it at Europeans.
Lying about race and genetic traits is a jew trait. This study is in effect another substantiation of race science, confirming that jew is a genetic trait. It also helps explain why the revelations of crypto-jews in high office is a recurring theme in American politics. The Spanish Inquisition may have been in part a healthy reaction to jewing, but in the end it entrenched the disease rather than curing it.