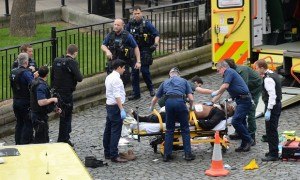 Yet another non-White alien attack. Specifics are still unclear. Here's what we already know for certain.
Low-level government officials claim they are searching for more attackers, doing everything they can to prevent more attacks. None dare note any connection to race or immigration, that such incidents are part and parcel of the larger meta-attack, the ongoing invasion and colonization by hostile aliens aided and abetted by traitors at the very top of government.
The "left" jewsmedia speaks of race, specifically blaming White norms and attitudes. Their narrative is that the root problem is native "nativism", "islamophobia", "xenophobia", "racism", "hate". Their solution is more "tolerance" and "diversity".
The "right" jewsmedia speaks of religion, specifically blaming muslim ideology. Their narrative is that the root problem is "radical islamic terror", which they see as akin to "fascism" and "nazism" (i.e. bad for the jews). Their solution is to drop more bombs on the jew state's neighbors, provide more special protection and funding for jews.
High-level government officials parrot the jewsmedia narrative.
Shortly the furor will die down and the jewsmedia can go back to screeching about Russian influence and "anti-semitism".