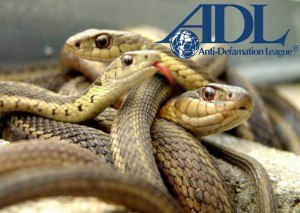 Earlier this month anti-White black nationalist jewsmedia employee Juan Thompson was arrested for harassing an ex-girlfriend. What we know about Thompson's "hate"-related shenanigans comes from two primary sources – his Twitter feed and the FBI complaint filed against him (PDF).
Jewsmedia articles consistently mischaracterized Thompson as a "liberal", "leftist", "communist", "Clinton supporter", "Bernie supporter" who threatened jews – though it is clear enough from his Twitter feed that he sees the world around him primarily in racial terms and to the extent he expressed any racial hostility he directed it mainly at Whites, not jews.
The FBI complaint made it plain enough that Thompson's supposed "bomb threats" were from the start deemed not credible, and ultimately not prosecutable. That's because he didn't make any real threats, or even fake threats, but instead concocted ridiculously overwrought false warnings about non-existent threats.
It turned out Thompson had a history of using fake "hate" to harass individuals who vexed him in some way. His general method attack was to pose as an anonymous tipster and supply fabricated charges of "hate" to someone in a position power, hoping to incite them to harm his target for him. Whereas the common "hate" hoaxer seeks sympathy or something else for themselves, Thompson used "hate" like a weapon, to harm others.
Now come reports exposing much more of the "bomb threat" jews have been screeching about as imaginary.
Israel's cyberattack unit arrests Israeli-American teen for 'hundreds' of bomb threats against Jewish institutions worldwide – Haaretz.com:
A resident of Israel in his late teens with both American and Israeli citizenship is suspected of being behind a host of fake bomb threats directed at Jewish institutions and other targets worldwide.
The suspect has lived in Israel many years. The army refused to draft him after finding him unfit for service. The suspect's motive is unknown, but police accuse him of hundreds of incidents involving threats to institutions around the world, including Israel, over a period of two or three years.

Some five computers were confiscated as well as other equipment, including antennas he used to access other people's networks and to commit the alleged crimes undetected. This initially threw off the police and it led them to question others whose network were used.
The first incident attributed to the Israeli suspect is a bomb threat that a Jewish institution in New Zealand received in 2016. Police in New Zealand identified the IP address as originating from Israel. A similar incident occurred in Australia, and Israel was also identified as the source.

. . .

The FBI handed over the information to the Israel Police after finding that these threats too had originated from Israel.
JCC bomb threats: Teen suspect arrested in Israel – CNN.com:
Israeli police are still trying to determine the teen suspect's motive. The FBI confirmed the arrest and said in a statement it could not provide further information on the investigation.

Leaders of Jewish institutions, including the Anti-Defamation League, said they were "relieved" by the arrest.

"While the details of this crime remain unclear, the impact of this individual's actions is crystal clear: These were acts of anti-Semitism," ADL CEO Jonathan Greenblatt said in a statement. "These threats targeted Jewish institutions, were calculated to sow fear and anxiety and put the entire Jewish community on high alert."
Yes, some details remain unclear, but they hardly matter. The big picture is that the supposed crime, the "hate", has again been exposed as a hoax. No real threat was made against jews, and the hoaxing was obviously not motivated by any real hatred of jews. In fact the hoaxers leveraged a pre-existing and on-going culture of "hate" hysteria – a climate created and maintained by jews for the benefit of jews.
As we see from the details that have already been disclosed, organized jewry and government investigators were well aware of the fake nature of both Thompson and the Israeli hoaxer, but engaged in their own fakery, pretending that the threats were real. The jews not only define "hate", they define crime. They have literally organized themselves to perpetrate the larger, original "hate" fraud, the unpunished corruption whose crystal clear impact extends to the highest levels of government.