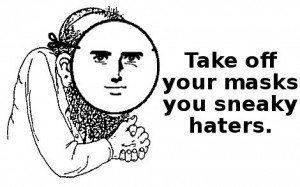 A new anti-mask bill, H.R.6054 – Unmasking Antifa Act of 2018, is causing some controversy, mostly because it includes the word "antifa" in its title. The body of the bill doesn't mention "antifa". The core of it is instead stated in seemingly neutral terms:
Ҥ 250. Interference with protected rights while in disguise

"(a) In general.—Whoever, whether or not acting under color of law, while in disguise, including while wearing a mask, injures, oppresses, threatens, or intimidates any person in any State, Territory, Commonwealth, Possession, or District in the free exercise or enjoyment of any right or privilege secured to him by the Constitution or laws of the United States, or because of his having so exercised the same, shall be fined under this title, imprisoned not more than 15 years, or both.
Anti-mask laws aren't new. Dishonest discussion of them swirls around the judeo-liberal charade known as "civil liberties" or "equal rights". Taken at face value, the bill only reinforces existing "rights" laws. These laws are interpreted to privilege "protected classes" over Whites. Critics of the bill use this same "rights" rhetoric, fretting that the law will somehow infringe these existing anti-White "rights". Republican Congressmen Are Pushing Anti-Antifa Bill is a typical jewsmedia example:
The legislation, which could send people to prison for up to 15 years, mirrors controversial state laws originally designed at cracking down on the Ku Klux Klan. But unlike those state laws, Donovan's bill is a direct shot at leftist protesters. And it might be unconstitutional, experts say.

"The thing I think is kind of funny is that the title is refers to 'antifa,'" Ruthann Robson, a law professor at the City University of New York told The Daily Beast. "One issue there would be: is this law targeting a certain group of people?"
Just to be clear, these jewsmedia "experts" are concerned that anti-White/pro-jew thugs continue to enjoy their constitutional "rights" to use violent extralegal political terror tactics against Whites. These "experts" have some cause for alarm because even existing anti-mask laws, which were created by jews to target White groups, are nowadays sometimes hampering anti-Whites.
The screeching about the bill gives the impression that it might somehow set back the anti-White agenda on a federal level. But that's not likely given the current anti-White/pro-jew interpretation of "rights" laws, never mind more recent explicitly anti-White/pro-jew legislation. Whatever its author's intent and despite the title it is entirely possible that this bill, if it ever becomes law, would only make interference with anti-White/pro-jew "rights" a federal offense. For example, it could be used to prosecute someone for anonymously "oppressing" jews on the internet.