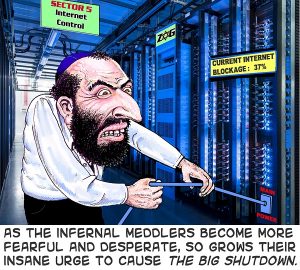 Some time between the 16th and 17th my previous hosting service, 1and1, decided to take my server offline and lock me out of their admin console, "for your own protection" due to "a possible case of attempted abuse". It was several more days before I was able to get through to their 9-5 security team to find out what was going on.
They claimed I had violated their terms of service, specifically regarding "hate", and stated they no longer wanted my business. They wouldn't grant me any further access to my server, but they did provide codes so I could transfer my domain registration elsewhere. Fortunately I had backup copies of the bulk of the data, but a couple of the most recent comments were lost.
I had long wanted to upgrade my operating system and software, and the plug-pulling gave me an opportunity to do that. I found a new hosting service, www.orangewebsite.com, who I feel better about giving my money to. They're based in Iceland, take payment anonymously, and sound serious about free speech:
I found content on a website hosted on your servers that I find offensive. How can I ask you to remove it?

We are a free speech hosting provider and, thus, the cost of that is that there may be content hosted on our servers that some people might find offensive. Once we start taking down such web sites, then we are no longer a free speech hosting service provider.
We'll see how long it lasts. Their terms of service don't currently mention "hate", "racism", or "anti-semitism". But then every day the jewing grows more overt and obnoxious, all over the world.