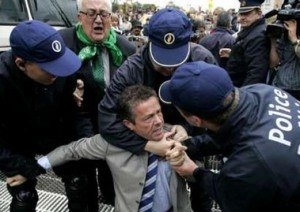 Only 16 million Hispanic voters will be eligible to cast ballots in next year's election – so why are so many of our politicians acting like they run the country? The politically correct answer: a sign of respect to the fastest-growing segment of American society. The unpleasant truth: it is a craven capitulation to a flood of invaders coming from Latin America to fulfill their dreams of reconquista.
What is reconquista? The politically correct answer: a completely bogus conspiracy theory/fantasy/boogeyman imagined by anti-immigration activists. The unpleasant truth:
"It doesn't end with secession," Norwood wrote. "The final plan includes the ethnic cleansing of Americans of European, African and Asian descent out of `Aztlan.'"
Reconquista is a fantasy, a brown supremacist fantasy that's coming true. The ethnic cleansing is well underway.
Why have European elites invited Muslims to flood their countries? The politically correct answer: there is no danger from Islam, only bigotry. The unpleasant truth: Saying there is a problem with Islam is considered bigotry worthy of repression. As accommodating and tolerant of Islam as Europeans have been, it still hasn't been enough. They have been attacked, by doctors even, and will continue to be attacked until the only diversity that remains will be of the very narrow sort permitted by Sharia, and the only culture that remains will be an Islamic culture.
Throughout the Western world the citizenry sees this growing threat, and implores their leaders to do something. Yet instead of stopping immigration they increase it. Instead of enforcing immigration laws and securing our borders they make excuses why it can't be done and open the gates ever wider.
It is clear our elites put a very high priority on immigration. The media boosts only those political candidates who are pro-invasion. Any candidate who strongly opposes immigration is portrayed as a marginal nutjob who can't possibly be elected. The power of this propaganda is difficult to overestimate. Observe the number of people who regurgitate the media's sentiments with barely any direct knowledge to support them. Do they control your mind? Do you know what Ron Paul or Tom Tancredo stand for or against before you call them kooks and say they have no hope to win an election?
What is the purpose of the immigration invasion? Does it matter? It is an essential element of the elite's globalist agenda, their pyramid scheme, steroids for their almighty economy. But there is no need to chase them down their rabbit hole, no need to debate how much wealth trickles down or whether Wal-Mart is good or bad. Whatever the justification, whatever the goal, immigration is destroying our culture, our infrastructure, our families, and our quality of life.
Yes, it makes the immigrants very happy. And yes, it makes the elites very rich. But why would the citizenry, the ordinary folk who are being disenfranchised and displaced, why would any of us favor immigration? Having until recently been of that belief myself and to this day encountering many others who still are I can say with certainty that the main reason is delusion.
Every day the news brims with the disastrous consequences of immigration. But most of this isn't seen for what it is, not only because to do so is politically incorrect but also because we are simultaneously fed a constant dose of pro-immigration propaganda. There is a constant stream of statements from people in positions of authority to the effect that immigration is wonderful, it is essential, and without it our economy would collapse. None of it is true. It is a deliberate inversion of reality. It is disinformation.
Upon examination every justification for immigration boils down to either benefits for the elites or benefits for the invaders. There is nothing for the citizenry but the imaginary joys of multiculturalism and diversity. And if you don't enjoy watching your culture be dismantled and your town being overrun by invaders? The explanation for such political incorrectness is that you must be crazy or mean, and probably both. Whether you're a loser who can't stand competition, a paranoid who imagines conspiracies, a racist who just doesn't like brown people, a xenophobe who hates foreigners, a fascist craving boxcars and concentration camps, or all of the above. You are nothing but a hater driven by irrational fear.
Multiculturalism and diversity are lies. When our elites tell us to "celebrate diversity" they're asking us to celebrate our demise.
Am I worried about America and all of its ordinary law-abiding tax-paying Americans? Yes. But I'm also concerned about Europe. And I'm particularly concerned about my race. Under the strictures of political correctness whites aren't supposed to criticize other races, even indirectly, and it is absolutely verboten to consider what might be good or bad for whites. Non-whites are free to think and talk all day long about their race, to dedicate their lives and their fortunes entirely to that cause, and to speculate what is in their own collective best interest. Far from being frowned upon, it's considered noble. It is only fair that the same should be true for whites. Political correctness forbids this. Thus I reject political correctness and everything associated with it. Those under its influence are misinformed. Those who preach it are evil.
I reject the requirement that whites must stand by and watch silently as their race, which is already an overall minority of the world's population, is reduced to minority status everywhere. Minorities are often abused, and whites have been so thoroughly demonized and unfairly tarred with the blame for the ills of the world that we know what to expect wherever we are outnumbered. We are brutalized. The violence begins even before we are outnumbered. Look at our cities. When and where we slip entirely from power we can expect far more grim treatment. Look at South Africa or Zimbabwe.
So I ask, what is it about replacing the white majorities in the US and Europe with non-white aliens that is so good? Can somebody explain this? Why are we blamed for resenting what we didn't ask for and so clearly don't want? Aren't we entitled to protect our ever dwindling homelands?
Of course we are.
Update, 15 Sept 2007: The insane denial continues in Europe:
We have to look at immigration not as a threat but – when well-managed, and that is our new task – as an enrichment and as an inescapable phenomenon of today's world.
Enrichment? Inescapable phenomena? Unbelievable.
Update, 15 Sept 2007 #2: Two frank assessments of what happened in Brussels this week: Democratic Europe RIP, and And Shariah For All? When US elites announced their collaboration with the invaders we at least had the opportunity to publicly and peacefully rebuke them. Opponents of the European elites will not have that opportunity. If the people cannot get redress via the vote or peaceful demonstrations then only one avenue remains. In the US it's still possible to hope that the treasonous bureaucrats can be deposed in a bloodless reboot. In Europe, it seems clear now, if it happens at all it's going to be bloody.