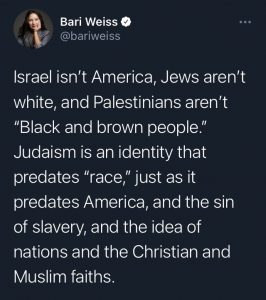 Bari Weiss – Where Did the Media Go Wrong?
In this interview with two sympathetic alt-jew jesters Weiss revels in her hyper-tribalist jew identity while venting her hostility toward Whites. She sees herself first and foremost as a member of the world's first and foremost collectively-imagined victim collective. She laughs as she refers to herself as an "unhinged zionist". She describes her worldview as "liberalism", claiming it is based on the "truths" that everyone is an individual, created in the image of "god", and therefore should be treated equally by law. She says "no person should be held to a standard of collective innocence or collective guilt" due to their "immutable characteristics".
This is the standard IDW shtick, though IDWers more typically avoid saying the jew part out loud. They prefer the jew-led war on Whites continue by deception, under the guise of "liberalism". They oppose the more overt "wokeism" tack only because they believe more open aggression may somehow not work out as well for jews. Weiss makes her jew-first mindset more plain than usual, causing more cognitive dissonance. (Her new podcast, laughably titled "Honestly", is bound to be more of the same "liberalism" double-talk.)
The portion of Weiss' motivation which she does not credit directly to being a jew she attributes indirectly to an inner voice telling her to fight "anti-semitism" for her tribe's collective benefit. She wrote what has to be the six gorillionth book on the subject.
As Weiss jewplains in the interview, she deplores "the right" because "anti-semitism", but thinks it's obvious to everyone. She prefers to focus on screeching about "anti-semitism" on "the left" (citing Columbia and the Jew York Times as her primary examples) because she imagines it is relatively unrecognized and unopposed.
Weiss is not so much stupid, delusional, or even hypocritical as she is unapologetically, unselfconsciously, and unfathomably jewy. Convinced that the jew-first "left" and "right" just aren't good enough, she seeks to spawn a jew-first "center".
You can picture Weiss' frustration when she finally decided to leave the Jew York Times, having screeched herself hoarse at the supposed "anti-semitism" of all those uppity house niggers and with no White men left to blame. After so many hard years in the mainstream jewsmedia, boosted by her tribemates from one cushy position to another, constantly discussing what is or isn't good for her tribe, Bari Weiss is now a mogul, raking in the shekels at the alt-jewsmedia hub Substack, finally free to be the Superjewess she always wanted to be.